How to Design a Great Presentation Cover Page
A cover page is a quick and easy way to add polish to your presentation. We'll cover a few tips for creating a great cover image, and we've got ten free PowerPoint cover image templates you can download at the bottom of the page.
The cover image sets the tone for your presentation—you don't want to dive right into the content—and is a great opportunity to start your deck off on the right foot.
What to include
Your cover image should include these basic facts:
Title Short and sweet.
Your contact information. Email or phone number
Your company logo. It's all about branding.
Bonus tips:
Cobranding. Presenting to a customer? Add their logo to personalize the presentation.
Conferences. Including your Twitter handle is a great idea—you might gain some followers, and it gives your audience someone to tag when they gush about your awesome presentation.
Know your Audience
Consider how your audience will view your presentation deck (projected, on their laptop, or printed like it's 1995), and make sure that the scale of your design is appropriate.
If you're presenting at a conference, your type needs to be big enough to read from the cheap seats, and make sure you have enough contrast that the text is legible even if there's poor projector quality. You don't want your audience squinting at the screen before your presentation even starts. And remember—the title page will be what's on screen when you're getting ready—walking up to the stage, fixing your microphone, or just swallowing back the sheer terror of public speaking.
If you're emailing the presentation, make sure your cover image works well as a thumbnail. That will be the first thing your reader sees when she receives the file—and, let's face it, a better image is going to drive more opens than a boring one.
Know your brand
If you have an established brand, your cover image needs to reflect it. One of the biggest problems we see with decks out in the wild is when the creator goes off-brand and uses the wrong colors or typeface. Imagine how surprising it would be to see a presentation from Coca-Cola without their trademark red, or Facebook without their blue.
Cover Image Techniques
Now that we have the basics down, here are some techniques you can use make a well-designed cover image.
Stock Photography
The workhorse of cover images is stock photography—an attractive photo with plenty of negative space, then place your text on top of it. The trick is to find the right photo and make it work for you. Pexels is a great place to find free images you can use anywhere. When you're looking for stock photos, keep these tips in mind to help you find the right image.
Sometimes you'll need to do a quick bit of editing to make the image work for you. The important thing is to find an image that works in the background —one that lets your reader focus on your message, not the photo. These images tend to look boring all by themselves—you need to use a bit of imagination to see how it will work once you layer text on it.
Once you have an image, you can desaturate and tint it to give it better contrast for your text, or manipulate the image to give it more negative space, as you see below.
Typographic
Nice typography will take a you a long way, and it's something you can do in PowerPoint without any special tools. We're in a renaissance of great, free fonts. Take a look at this selection of the best Google Fonts from the always awesome TypeWolf for inspiration.
Using custom fonts can be tricky in PowerPoint. If you're having trouble getting your fonts to show up, take a look at this article . If you're sharing the PowerPoint with others, they'll need to have the fonts installed (we recommend always exporting your deck to PDF before sharing with customers to avoid font problems).
We all know PowerPoint isn't the greatest design tool—but it does the basics well enough, and you can use it to make a minimal design that works well.
Even though they're "easy" to do, with the right layout and sense of balance you can make a design that really sings with hardly any design elements.
Strong color combinations, simple shapes, and nice typography can yield a cover page that looks great without searching for stock images or opening Photoshop. Need a little help with color combinations? Check out Kuler from Adobe .
Free PowerPoint Cover Page Templates
We've made examples of the styles above for you to download and use. These are completely free—do whatever you like with them!
Coffee Cup PowerPoint Cover
Requires  open sans download powerpoint file, beach powerpoint cover, requires  playfair display download powerpoint file, office building powerpoint cover, requires  open sans and playfair display download powerpoint file, circles powerpoint cover, bridge powerpoint cover, desk powerpoint cover, design tools powerpoint cover, simple powerpoint cover, tiled background powerpoint cover, topographic background powerpoint cover.
Enjoy! If you need some ideas to get you started, take a look at our portfolio of decks we've designed . Or if you'd like a little help on your next project, we're happy to help .
Want to see more from Lightboard?
Subscribe for notifications about new posts.
About Lightboard
Lightboard is a B2B design service. We've helped great companies like Autodesk, Nasdaq, and Tile with design, and we'd love to help you.
Need great design for your presentations, website, and inbound marketing? Look no further.
See what we can do.
Unsupported browser
This site was designed for modern browsers and tested with Internet Explorer version 10 and later.
It may not look or work correctly on your browser.
How to Make a Great PowerPoint Title Cover Slide Quickly (+ Video)
The PowerPoint title slide sets the stage for all of your subsequent slides. We've all sat through too many boring presentations. They're not created equally, and well-designed presentations make an impression.    
Invest the additional time to add design polish to your presentation. Half the battle is building excitement. Build a bold PowerPoint title slide that shows your audience that you're excited to share.        
But how can you build a presentation that's sure to make an impact on your audience? There are repeatable slide designs that you can use to set the stage for your presentation. In this tutorial, I'll show you just how easy it is to build a PowerPoint title page.
Before we take a closer look at PowerPoint cover slides, l want to make you aware of another great resource. We've got a helpful complement to this tutorial. Download our FREE eBook:  The Complete Guide to Making Great Presentations . Grab it now before you read on.
How to Quickly Make Great PowerPoint Presentation Title Cover Slides (Video)
If you're making a PowerPoint title slide for your presentation, you need it to look good. Learn how to make a visually appealing PowerPoint title page quickly in the video below:
The Five PowerPoint Cover Slides to Build
There's no limit to the directions that you can take your PowerPoint title slide. But it's hard to disagree that the first slide is going to set the stage for the rest of your presentation.
So, it's essential that your presentation gets off to a strong start. But what direction should you go so that you grab the audience's attention early and hold it until the end?
In this tutorial, you'll learn to build five types of PowerPoint title slides. Here are the categories that I tend to think about when designing my own title slides:
The Logo Slide . Focus on the branding and brand image of your group by starting off by putting your logo and tagline front and center.
The Big Question Slide . Most presentations are designed to inform. But it's also fun to flip the script and ask a question of your audience. It kick starts the conversation.
The Introductory Slide . This slide focuses on showcasing your credentials and background to establish authority.
The Roadmap Slide . Chart the course for your presentation ahead by giving a sneak preview of the outline.
The Team Slide . Does your presentation focus on a group's effort? It's a great idea to start your presentation by showcasing all of the minds behind the project. 
In this tutorial, we're going to build an example of each of these PowerPoint cover slides. We'll use pre-built templates to create impactful slide designs rapidly. Let's dive in!
How to Use Templates for PowerPoint Title Slides
After giving many presentations, I truly believe that content is king. You should focus on the message and the meat of your presentation. PowerPoint title page slides can be simple, but you should still invest the time to create a great opener.
The best way to get a head start while building a presentation is to use ga-analytics#sendElementsClickEvent">pre-built templates from Envato Elements. Elements has a massive library of PowerPoint presentation designs you can use. Each template has starter slides that you can just drop your own content into. The PowerPoint cover slides we feature are the fastest way to design.
The best part of Elements? It's an all-you-can-download creative buffet. With a single subscription, you've got access to all that Elements offers. It includes over 1,000 PowerPoint designs plus more than 600,000 total creative assets. That includes stock photos, graphics, audio, and so much more.
In this tutorial, we're going to use an impressive template called the  ga-analytics#sendElementsClickEvent">BePro PowerPoint Business template.   This is one of the top PowerPoint templates that's included for Elements subscribers. It's got a litany of designs that you can use to create the perfect PowerPoint title page. It also includes multiple color schemes to make it easy to re-use.
Elements has over 1,000 PowerPoint templates, and we'll help by showing you the best. Try out this collection of  ga-analytics#sendElementsClickEvent">popular professional PPT templates on Elements .
While Envato Elements is an all-you-can-download model for templates, it's not the only choice. GraphicRiver is a pay-as-you-go ga-analytics#sendMarketClickEvent">archive of PowerPoint presentation templates . Check out some of the ga-analytics#sendMarketClickEvent">new PowerPoint presentation templates on GraphicRiver  and the  ga-analytics#sendMarketClickEvent">trending bestsellers on GraphicRiver .
The Logo Slide
The Logo Slide focuses on your brand image and showcasing the logo of your company. It's ideal to use a logo slide to show your branding on the PowerPoint title page.
A good starting point for this slide is slide design three that's built into the BePro template. It's perfect for just adding a logo and background image. In the example below, I dropped in the logo on the slide. I also took the same logo and faded it into the background image placeholder.
Make sure too that your version of the logo slide stays with the branding message. Adjust the colors of shapes and text to match the overall color scheme of your business. 
Building a logo slide as your title slide doesn't have to be complicated. A well-made logo slide shows your branding quickly. An alternate option for this slide is slide design 4, a simple slide with a dark color scheme. Just add your logo to that slide to create contrast.
The Big Question Slide
Your audience may be expecting you to impart knowledge on them. But you can flip the script by asking a question up front.
The "Big Question Slide" doesn't take much time to design. It helps you free up time that you can spend thinking about the rest of your content.
When you're writing a presentation, there should always be a goal or big idea. In the example below, I used the minimalist slide design 4 to ask a question of the audience. Over the course of the presentation, I'll answer this question for the audience.
If you aren't  answering a question or sharing an idea, it might be time to re-think the content. 
The Introductory Slide
There's nothing wrong with getting a bit personal in your presentation. Set the stage by building your authority and expertise, and the audience will trust and follow you through the presentation.
BePro has many slide designs that work well for this, but I opted for slide 25. It's a clean and straightforward slide design. It's easy to add points that explain your expertise to the audience. 
As you can see above, I also added a stock photo as the background image. Envato Elements features ga-analytics#sendElementsClickEvent">more than 100,000 stock images as part of the subscription. They're ideal for sourcing a stock image for your presentation. 
In my example slide, I grabbed a great photo and faded it into the background. It's a great reminder that Elements is a total solution for building presentations—not just for the PowerPoint templates.
The Roadmap Slide
The roadmap style slide is used to tell the story of where your presentation is headed. I've sat through many presentations that seemed to wander through the agenda and would've benefitted from a roadmap slide. 
When you build a roadmap, you show the audience the direction that you'll take them on over the course of the presentation. 
Slide design 41 might take a bit of customization, but I do think that it's the perfect choice for showcasing your roadmap for the presentation. Just update each of the four placeholder boxes with a key section of your presentation to architect the roadmap of your big speech.
The Team Slide
This type of slide is the perfect intro to showcasing a project that was a total team effort. If you're going to spend your presentation sharing how you built a big app, product, or project, it's only right that you share the credit with your team. 
Slide 22  in BePro is the perfect choice to build a team slide of your own. It's tailor-made to drop in images and descriptions of your team members and see it come to life. 
In my example below, I put a vital member of the project team in each of the image placeholders. Giving a brief background or description of their contribution to the project is a great way to set the stage. 
I think the Team Slide approach is perfect when multiple speakers are involved. Some of my favorite presentations are when several different presenters will each take a part of the presentation. If this is the style of your presentation, consider kicking off with a team slide that introduces everyone's role and contributions.
5 Quick PowerPoint Title Cover Slide Design Tips for 2021
We've looked at how to make a great PowerPoint cover slide. Soon, you can begin building amazing slides on your own. But first, check out five quick design tips that are sure to help you out:
Bold style is essential on your PowerPoint cover page. Remember, you've got one goal: capturing audience attention . Sharp, eye-catching design does exactly that.
Premium templates built by creatives provide unmatched designs. They even help inspire you to do your very best work. And they're incredibly easy to customize, making you look like a PPT expert.
2. Create Your Own Layouts
PPT decks are really frameworks for your message. Inside the app, you've got the flexibility to customize every slide layout. That's never more important than on the first page of PPT presentations.
By adjusting layouts, you can show exactly what you want, where you want. It's the best way to create a memorable and unique PowerPoint cover page.
Learn how to customize PPT layouts with our quick tutorial:
3. Embrace Minimalism
Minimalism. It's a popular design aesthetic, and for good reason. It adds style without being overpowering or distracting. That's perfect for a PowerPoint cover page.
Try to build a cover showing only the essentials. These could be things like an image, the presentation title, a date, and your name. Be careful to avoid adding clutter: it's a quick way to lose your audience.
4. Add Kinetic Typography
You might not think of animated text. But it's actually a great way to grab attention and lock in audience focus. Thanks to PowerPoint, you can add these animations (called kinetic typography) easily.
Kinetic typography brings subtle, stylish text animation to any slide. It's ideal for the first page of PPT presentation layouts in need of a bit more energy.
Learn how to use kinetic typography in just 60 seconds here:
5. Be Specific
First impressions are key, and you'll make one with your PowerPoint cover page. So why use generic layouts if you can find something specifically suited to your needs?
This might mean choosing a premium template built for your industry. Or, you might add your brand's colors, logos, and more. Either way, being specific and tailoring your cover slide to your needs is sure to impress.
5 Top PowerPoint Title Cover Slide Templates (For 2021 Presentations)
Premium templates from Envato Elements include stunning PowerPoint cover page designs. Let's check out five of the very best:
1. ga-analytics#sendElementsClickEvent">VERA PowerPoint Template
Bold colors abound in this visually stunning PPT deck. With 55 unique slides, you're sure to find the perfect PowerPoint cover page. Also, inside is a custom icon set that's easy to work with. This one is perfect for almost any project.
2. ga-analytics#sendElementsClickEvent">STYLE - Multipurpose PowerPoint Template V50
Style: it's in the name of this template, and for good reason . This is a perfect example of a sleek, minimalist PowerPoint cover page. Customize it in seconds, and with 4,000 slides to choose from, your options are almost unlimited.
3. ga-analytics#sendElementsClickEvent">IPSUM - PowerPoint
IPSUM offers a key part of a successful PowerPoint cover page. That's creative flexibility. Over 50 layouts are built into the pack. You'll also see custom infographics, icons, and more. Each slide element is completely editable.
4. ga-analytics#sendElementsClickEvent">Livy PowerPoint
Searching for a timeless, retro-inspired PPT cover page? Livy has you covered. With 50 slides and resizable graphics, it's easy to adapt to your project needs. The included gallery slide makes for a perfect mosaic cover layout.
5. ga-analytics#sendElementsClickEvent">Conference PowerPoint Presentation Template
Last but not least is Conference, a modern PowerPoint cover page deck. Choose between multiple color themes and quickly add in your content. Plus, slides are pre-animated, saving you precious time. Each slide is in full HD, helping them look great on large screens.
More Top PowerPoint Templates
PowerPoint templates give you a tremendous advantage when creating a presentation. You've already seen options for PowerPoint cover pages in this tutorial, but these just scratch the surface.
Check out more of the top templates below. Many of these templates give you even more options to use as the first page of PPT presentations.
Keep Learning
PowerPoint is a fantastic app because it's easy to learn but has so many features that you can use to build beautiful slides. These five title slide designs and the template we used to build them are a great example of how easy it can be.
Still want to learn more about PowerPoint? One of the best resources for learning the app is our article,  Ultimate Guide to the Best PPT . That guide and the tutorials below will help you build competence and present confidently.
Make Great Presentations ( Free PDF eBook Download )
We also have the perfect complement to this PowerPoint tutorial, which will walk you through the complete presentation process. Learn how to write your presentation, design it like a pro, and prepare it to present powerfully.
Download our new eBook: The Complete Guide to Making Great Presentations . It's available for free with a subscription to the Tuts+ Business Newsletter.
Start Using PowerPoint Cover Pages Today
In this tutorial, you saw some of the best options for ga-analytics#sendElementsClickEvent">PowerPoint cover pages inside of premium templates. These files set the tone with the help of the first page of PPT presentations, presented perfectly. Choose one of these templates and get started now.
How do you grab and hold the audience's attention? If you've got ideas on how to write more compelling copy for title slides, make sure to use the comments section below to share a tip with other Tuts+ readers.
Editorial Note: This tutorial was originally published in August of 2019.  It's been revised to make it current, accurate, and up to date by our staff—with special help from Andrew Childress .
How to Make a Cover Page in PowerPoint
In the first look, the outside view defines the interior. Similar is with the cover page. If you have an attractive cover page, it defines the entire presentation or the file. Here in this tutorial, we will check how to make a cover page in PowerPoint. There are other ways to create a cover page, such as using Google Docs and Canva.
PowerPoint is a free tool provided by Microsoft and is compatible with MacBook and Windows PC. Creating a cover page using PowerPoint is more accessible, even if you have little knowledge of working with PowerPoint.
Five Must-Have PowerPoint Presentation Cover Slides
Where your PowerPoint title slide goes is entirely up to you. No one would argue with the fact that your first slide will set the tone for the whole presentation.
Having a solid introduction is crucial to the success of any presentation. But what path should you take to hook listeners and keep them engaged?
This guide will teach you how to create five distinct kinds of title slides for use in PowerPoint. When creating my title slides, I usually keep these things in mind:
The Logo Slide Prioritize your organization's branding by prominently displaying its logo and catchphrase.
The Big Question Slide . It's a great discussion starter. The primary goal of most presentations is education. However, switching gears and turning the table on your audience may also be entertaining.
The Introductory Slide . To build your credibility, this slide will highlight your experience and accomplishments.
The Roadmap Slide . To get your audience where you want them to go, you must provide them with a road map of your presentation.
The Team Slide . It's a good idea to start your presentation by highlighting everyone who contributed to it. Is the group's work the main emphasis of your presentation?
How to Create a Cover Page in PowerPoint
Open PowerPoint on your computer. It is by default available on all Windows PCs, but for MacBook, you must download it from App Store. Once you have opened it, click on the Design tab on the top menu list.
Here you can see different design layouts below the Design tab. Choose what you like most and look according to your presentation.
Now you can edit the text written on the Design or add some extra things to the cover page, such as pictures, screenshots, shapes, graphs, tables, and other necessary tools. For this, go to the Insert tab and choose the option from the drop-down layout.
Along with all these, there are different features that you can add to your cover page to make it more attractive. You can add different design textures to the cover page and add extra text with the different designs. For cropping your cover page to a different design, go to Crop> Crop to shape. Here choose the shape you wish to make the cover page.
To make your cover page something like GIF or animated, you must dig some deeper. We have used this tool and find it useful for an adorable cover page. Follow some steps here.
Once you have created a cover page, we are now looking to add some extra effects. Go to the Animation tab, and from the view more icons, choose anything that looks good, but here we are choosing Fade animation.
Launch the Animation pane from the top, and it appears on the right side of the screen. Click on the area you wish to make animated. From the Custom Animation pane option, you can select the start preference.
Select the particular text box or image to make it movable on the covering page; from the top, choose the Fly-in option, and from the Effect options, choose to move the direction of the text or image.
You can also choose the timing option from the Animation pane to set the duration of the moving object or text.
Note: The above screenshots are from PowerPoint 2007, you may be working on different, but the steps are almost the same for all.
So this was the tutorial to make a cover page in PowerPoint. I hope this helps you a lot. And if you are still getting any problems, let us know in the comment section. We will help you there!
For the latest tech tutorials and online deals, follow us on Facebook and  Twitter .
You may also like:
5 best screen recorder Google Chrome extensions
Best PDF viewer with Night mode
Oh no! We couldn't find anything like that.
Try another search, and we'll give it our best shot.
How to Create a Stunning Presentation Cover Page [+ Examples]

Published: January 06, 2021
When you're focused on creating a meaningful, persuasive presentation, it's easy to overlook the cover page. But giving that first page of your deck a little more love can actually go a long way towards grabbing your audience's attention early on and setting the tone for the rest of your presentation.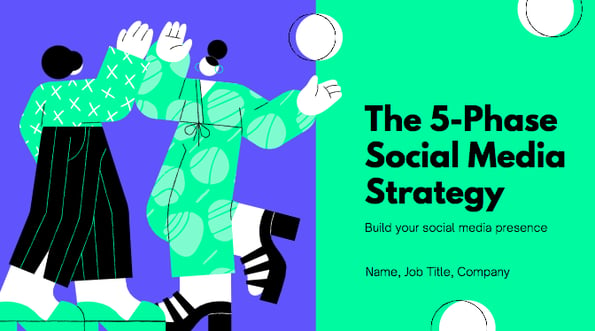 A stunning presentation cover page can intrigue your audience into wanting to know more and increase engagement with the information you're presenting. On the other hand, a lackluster slide, or even the lack of one, can dampen audience enthusiasm for your presentation, and maybe even your own.
You've put so much work into your presentation -- why waste that valuable real estate on the first slide of your deck?
In this post, we'll cover the basics of creating a presentation cover page that's informative and attention-grabbing. Let's dive in.
What's included in a presentation cover page?
A good presentation cover page accomplishes three simple things:
It introduces the topic with a straightforward title.
It introduces you (and your organization, if applicable)
It sets the tone of your presentation.
We probably don't need to tell you this one, but your presentation cover page should be centered around a title. And ideally, a title that's straightforward, descriptive, and simple. If you're finding it hard to keep your title short, add a subtitle (in smaller print) to clarify what you'll be speaking about.
Next, identify the person (or group) who will be giving the presentation. In some cases, this will be as simple as including your own name, and in others, you'll want to include your company name, logo, department, or other identifying information. As a general guideline, you'll need less identifying information if you're giving an internal presentation.
If your audience is mainly folks outside of your company (or there are plans to distribute your deck externally) you'll typically want to include more information to identify your company clearly.
A successful cover page sets the "tone" of your deck -- but what does that really mean? The colors, imagery, fonts, and placements of different elements on your cover page all create a specific visual style that the rest of your deck should follow.
A well-designed page conveys a sense of professionalism and preparedness that a simple monochrome text slide simply cannot. Even if you're not a design expert, you need to pay attention to the aesthetics of your cover page. Fortunately, it's easier than ever to find free, professional-looking presentation templates without needing a degree in graphic design. Whatever you choose, it's important to remain relevant to your presentation (and, if applicable, your company's branding).
We'll explore a few examples of cover pages below so you can see how different elements converge to set the tone for a variety of different presentations.
Presentation Cover Page Examples
Below, we've compiled a number of presentation cover pages that succeed in different areas. Remember: there's no single perfect format for a presentation cover page, but hopefully, you get some inspiration from this list.
Setting An Emotional Tone
The right presentation page can set an emotional tone as well as a visual one. This presentation cover page for a nonprofit conveys a mission-driven approach to protecting nature, with a well-selected, relevant image, and a call-to-action directly in the subtitle. (Photo by Andy Køgl on Unsplash )
Focusing on a Photo
You don't need to overcomplicate the format of your cover page, especially if you have a great photo to use as a full background image. A simple stock photo here provides a clean backdrop for this presentation on remote work. Just make sure your title text is legible over any background photo you decide to use. (Photo by Corinne Kutz on Unsplash )
Leading With Your Brand
Even if you're the central speaker for a presentation, it might make more sense to highlight your team or brand on your cover page, instead of including your own personal information (you can always include your own contact info at the end of your deck for follow-up questions). Context (if you're speaking at a particular event or annual meeting) can be important to highlight as well on your cover page.
There's a big difference between a cover slide you didn't put much thought into and a slide that makes good use of whitespace and leans on strong copy. Sometimes, the best way to lead an audience into your presentation is to create space for a little mystery.
If you're giving a more casual presentation or a pitch that doesn't need to follow a particular format, consider going the minimal route and opening with a simple cover page slide that asks your audience a question (one that you of course plan to answer).
Set a Purpose
Many presentations include an agenda slide directly after your cover slide, but that doesn't mean you can use your cover slide to set a clear purpose upfront. Consider using your subtitle to explain a more robust (but still simple!) description of what you'll cover.
Presentation Cover Page Templates
Instead of creating your presentation cover page from scratch, using a template can take much of the work out of the process. Check out these websites for templates that you can use for your presentation or for inspiration to create your own designs.
A tried-and-true favorite of many marketing teams, Canva offers up a wide selection of modern, drag-and-drop presentation templates with truly unique cover pages. If you're on the hunt for a cover page that looks like you hired a graphic designer to create it just for you, Canva is a good place to start your search. Canva offers both free and paid options.
Beautiful.ai
Beautiful.ai has an intuitive, highly-customizable presentation builder that allows you to import your own visual elements directly from your computer or a Dropbox folder. Like Canva, they offer a number of free and paid template options (with great cover pages). Their biggest differentiating feature is their (frankly, very cool) adaptive AI technology, which intuits how you're trying to design a slide and makes changes automatically to suit the direction of your project.
For a completely free option with cover page starter template to suit a wide range of different projects across different formats, check out EDIT. Their online tool is specifically designed to create cover pages in a simple, easy-to-use interface.
Another highly-customizable template source is Visme, which gives users the ability to select a starting template from their (expansive) library and customize elements in a simple web editor.
VectorStock ®
VectorStock® has a massive selection of PowerPoint presentation cover page templates for purchase if you're looking for something that's ready to plug and go without the need for customization (beyond adding your own name and title, of course).
First Impressions Matter
For better or worse, audiences will judge a presentation by its cover page. Because of this, it's vital that you give your cover page the care and attention that it deserves. Ultimately, a cover page isn't simply a placeholder, it's a vital component that can drum up interest for your presentation. The best part is that with the tools available online, you don't have to be an artist to create a stunning presentation cover page.
The featured image on this post was created using a Canva template.
Don't forget to share this post!
Related articles.
20 Great Examples of PowerPoint Presentation Design [+ Templates]
How to Create an Infographic in Under an Hour [+ Free Templates]
17 PowerPoint Presentation Tips to Make More Creative Slideshows [+ Templates]
The Presenter's Guide to Nailing Your Next PowerPoint
How to Easily Create a SlideShare Presentation
What is the 7x7 Rule in PowerPoint?
How to Give a Persuasive Presentation [+ Examples]
How to Create a Killer 5-Minute Presentation
11 Public Speaking Tips From the World's Best Speakers & Communication Experts [SlideShare]
Download ten free PowerPoint templates for a better presentation.
Free Cover PowerPoint Templates
Free Teacher PowerPoint Template
Create engaging and informative presentations for the classroom using this free Teacher PowerPoint Template. Look no further than our Educational PowerPoint Template, featuring a cover image of a teacher and kids in the classroom. This fully customizable template for PowerPoint is designed to make it easy for teachers to prepare visually appealing and interactive presentations …
These Free Cover PowerPoint Templates deliver PPT slide layouts which are ideal for making cover slides for presentations. With these standard PowerPoint backgrounds you can create presentations on a plethora of topics; be it presentations about the environment, global warming, development economics, development projects or topics like business plans, project plans, etc.
These free cover templates provide a standard cover slide, with scope for converting these slide decks into a comprehensive template for making entire presentations. The light color tones in these PPT templates provide a calming visual effect, which can help leave a positive impact on your audience.
Also Download Free Curves PowerPoint Templates .
Free Masks PowerPoint Template
Free White Mask PowerPoint Template
Small Business Consulting PowerPoint Template
Free Abstract Blue & White PowerPoint Template
Free Attractive Mandy Background PowerPoint Template
Free Matrix PowerPoint Template
Free Designer PowerPoint Template
Free Amaranth PowerPoint Template
Free Executive Formal PowerPoint Template
We will send you our curated collections to your email weekly. No spam, promise!
Celebrate our 20th anniversary with us and save 20% sitewide. Use code HAPPY20TH
Creative Flow
Powerpoint Cover Page Design royalty-free images
5,241 powerpoint cover page design stock photos, vectors, and illustrations are available royalty-free.   see powerpoint cover page design stock video clips.
Personal Premium
- Use Without Credit
- Unlimited Download
- Personal Commercial Use
Enterprise Premium
- Enterprise Authorization
- Multiple Account Use
- Unlimited Printed
Video Premium
- Permanent Authorization
- High-Speed Download
mobile legend 96
aesthetic 326
anime naruto 288
aesthetic background 1184
mobile legends 96
black clover anime 1650
business 10223
barbie background 905
winx club 93
Sound Effects
Cover Pages Powerpoint Templates
Ready-to-use cover pages powerpoint templates are extremely useful for your presentation preparation. Perfect powerpoint background and icons are professionally designed by our designers. Search your presentation topic and download the styles you want right now.
40 page cartoon office personage information visualization PPT c
High quality web page wind business PPT template in Europe and A
40 pages of high-end elegant information visualization
Red contracted work report PPT template
40 pages of blue green color matching information visualization
Food Infographic Powerpoint
40 page light elegant purple information visualization graph set
40 page office personage information visualization PPT chart
Colorful percentage information visualization chart set
Visualized graph set of 40 page parallel relation information
Visualized graph set of stable relationship information
Visualized graph set of relationship information between male an
Visualized graph set of timeline streamline relation information
Chinese style ink landscape cover collection PPT template
Simple yellow and blue web style work report PPT template
Fresh album wind PPT template
Graduation reply academic reply PPT template
Company Profile Powerpoint
Simple magazine wind business work report general PPT template
Chinese style ink ink Zen universal background cover collection
Creative hand drawn illustration cartoon father's day cover coll
European and American style simple magazine style universal trav
Interior design PPT template
American Football Introduction Slide
Innovative UI web page album universal PPT template
Farming promotion presentation illustration slide
Education market analysis report illustration slide
Blue Modern Cyclope Bicycle Introduction Slide
Gray-blue minimalist page wind report job report business PPT te
Simple and sincere cover letter PPT template
European and American business wind business work report summary
Color simple business plan PPT template
Visualized graph set of office sales payment information
Minimalist European and American style construction industry fin
Simple newspaper wind work summary general PPT template
40 pages of red thinking logic analysis visual PPT chart
40 page relation network, small person information visualization
Fresh and lovely post competition ppt template
Pharmacy Healthy Powerpoint
Art Gallery Powerpoint
Economy Infographic Powerpoint
Ocean Conservation Powerpoint
Nail Salon Shop Slide
Fruit Store Introduction Slide
Construction Powerpoint
Medical Infographic PPT
Color Healthcare Medical Infographic PPT
Organic Farms Slides Introduction Free Download
Haven't found the exact image you want?
More cover pages Images | best popular all images
Password Reset
You agree to lovepik Terms Of Service ,
If you have any questions or concerns, please do not hesitate to contact us. We would love to hear from you, contact us on Email: [email protected]
Successfully sent!
Thank you for your feedback, we will contact you as soon as possible.