National Endowment for the Arts
Grants for Arts Projects
Challenge America
Research Awards
Partnership Agreements
American Rescue Plan Grants
Creative Writing
Translation Projects
Volunteer to be an NEA Panelist
Manage Your Award
Recent Grants
Arts & Human Development Task Force
Arts Education Partnership
Blue Star Museums
Citizens' Institute on Rural Design
Creative Forces: NEA Military Healing Arts Network
GSA's Art in Architecture
Independent Film & Media Arts Field-Building Initiative
International
Mayors' Institute on City Design
Musical Theater Songwriting Challenge
NEA Big Read
NEA Research Labs
Poetry Out Loud
Save America's Treasures
Shakespeare in American Communities
Sound Health Network
United We Stand
American Artscape Magazine
NEA Art Works Podcast
National Endowment for the Arts Blog
States and Regions
Accessibility
Arts & Artifacts Indemnity Program
Arts and Health
Arts Education
Creative Placemaking
Equity Action Plan
Historically Black Colleges and Universities (HBCUs)
Literary Arts
Native Arts and Culture
NEA Jazz Masters Fellowships
National Heritage Fellowships
National Medal of Arts
Press Releases
Upcoming Events
NEA Chair's Page
Leadership and Staff
What Is the NEA
Publications
National Endowment for the Arts on COVID-19
Open Government
Freedom of Information Act (FOIA)
Office of the Inspector General
Civil Rights Office
Appropriations History
Make a Donation
CREATIVE WRITING FELLOWSHIPS
The National Endowment for the Arts Literature Fellowships program offers $25,000 grants in  prose  (fiction and creative nonfiction) and  poetry  to published creative writers that enable the recipients to set aside time for writing, research, travel, and general career advancement. 
This program operates on a two-year cycle with fellowships in prose and poetry available in alternating years. In 2023 we will be accepting applications in prose (fiction and creative nonfiction) .  
Learn  more about past recipients of our literature fellowships  in the Literary Arts Impact section. 
If you have questions about your application, please contact the Literary Arts staff at 202-682-5034 or email  [email protected]
Stay Connected to the National Endowment for the Arts
Creative Writing Fellowship
Departments & Programs
Department of English
To enhance our strong program in creative writing, the Department of English established the Olive B. O'Connor Fellowship in Creative Writing.
This annual fellowship is designed to support writers completing their first books. It provides a generous stipend, office space, and an intellectual community for the recipients, who spend one academic year at Colgate. In return, each fellow teaches one creative writing workshop per semester and gives a public reading of their work.
2023–2024 Fellowships
Colgate University invites applications for the Olive B. O'Connor Fellowship in Creative Writing. This year we invite applications for:
One fellowship in poetry
One fellowship in nonfiction
Writers who have recently completed an MFA, MA, or PhD in creative writing, and who need a year to complete their first book, are encouraged to apply. The selected writers will spend the academic year (late August 2023 to early May 2024) at Colgate University in Hamilton, New York. The fellows will teach one creative writing course each semester and will give a public reading from the work in progress.
The fellowship includes:
A stipend of $43,750
Travel expenses
Health and life insurance are provided
Applications
Deadline: January 6, 2023 Applications materials include: 
cover letter;
three letters of recommendation, at least one of which should address the candidate's abilities as a teacher;
20 single-spaced pages of poetry or a maximum of 30 double-spaced manuscript pages of prose. The writing sample may be a completed work or an excerpt from something larger.
Colgate strives to be a community supportive of diverse perspectives and identities. All applications should speak directly to the candidate's ability to work effectively with students across a wide range of identities and backgrounds.
Nonfiction Application
Poetry Application
Colgate is a highly selective liberal arts university of 2,900 students situated in central New York State. The Colgate faculty is committed to excellence in both teaching and scholarship. Further information about the  English department  is online. It is the policy of Colgate University not to discriminate against any employee or applicant for employment on the basis of their race, color, creed, religion, age, sex, pregnancy, national origin, marital status, disability, Protected Veteran status, sexual orientation, gender identity or expression, genetic information, being or having been victims of domestic violence or stalking, familial status, or any other categories covered by law. Candidates from historically underrepresented groups, women, persons with disabilities, and Protected Veterans are encouraged to apply.
2022–2023 Olive B. O'Connor Fellows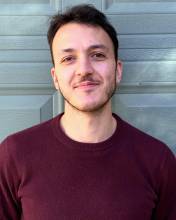 Armen Davoudian
Armen Davoudian's poems and translations from Persian appear in Poetry magazine , the Sewanee Review , the Yale Review , and elsewhere. His chapbook, Swan Song , won the 2020 Frost Place Competition.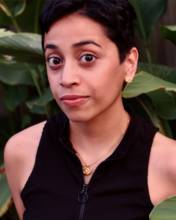 Pallavi Wakharkar
Pallavi Wakharkar is a writer from Phoenix, AZ. She holds an M.F.A. in creative writing from Vanderbilt University and is the 2022-23 Olive B. O'Connor Fellow in fiction at Colgate. She was the 2021 winner of The Iowa Review Award in fiction, and her work appears in The Iowa Review , Joyland Magazine , and others. She is currently working on her first novel as well as a story collection.
Past Fellows
Esther hayes.
Esther Hayes is a fiction writer from Nevada whose work has appeared or is forthcoming in  Guernica Magazine  and  Puerto del Sol.  She was a finalist in the 2020 AWP Intro Journals Project and the 2019  Sewanee Review  Fiction Contest .  She received her MFA from Colorado State University where she served as an associate editor for  Colorado Review.  She is currently working on a collection of short stories and her first novel.
Alexander Ramirez
Alexander Ramirez is from Sacramento, CA. He is the 2021-2022 Olive B. O'Connor Fellow in Creative Writing (Nonfiction). He holds a PhD in English from the University of Nebraska-Lincoln, and his writing has appeared in  The Missouri Review ,  Image Journal , and  The Journal of American Culture , among other publications.
Maggie Millner
Maggie Millner is a poet and educator from Central New York. Her poems appear or are forthcoming in The New Yorker, POETRY, Ploughshares, Gulf Coast, ZYZZYVA , and elsewhere. She serves as a senior editor at The Yale Review and an Olive B. O'Connor Fellow in Poetry at Colgate University.
Lucy Schiller
Lucy Schiller's nonfiction work has appeared in The Baffler , Contexto , The Columbia Journalism Review , The New Yorker , The Iowa Review , Goodnight , Sweet Prince , CounterPunch , and elsewhere. She was the 2018-2019 Provost's Fellow in Nonfiction at the University of Iowa, where she received her MFA. She is currently working on a nonfiction manuscript and on a novel.
Gbenga Adesina
Gbenga Adesina's poems have appeared in Narrative, Prairie Schooner, Washington Square Review, Vinyl, Brittle Paper and Ploughshares. He has received fellowships and scholarships from the Poets House, the Norman Mailer Center, the Fine Arts Work Centre, Provincetown, the Open Society Foundation in Goree Island, off the coast of Senegal, Callaloo at Oxford and New York University where he received his MFA and held the Starworks and Goldwater Fellowships. He was a joint winner of the 2016 Brunel International Poetry Prize, the 2017 Hugh J. Luke Award from Prairie Schooner, and the 2019 Palette Poetry Spotlight Award.
Annie Vitalsey
Annie Vitalsey is a fiction writer whose stories have appeared in Reed Magazine, Bennington Review, Pacifica Literary Review, Menacing Hedge, Spilled Milk Magazine, Watershed Review, and elsewhere. In 2018, she was a Virginia G. Piper Global Residency Fellow and received her first Pushcart nomination. In 2019, she was also awarded a Desert Nights Teaching Fellowship. Vitalsey has an MFA from Arizona State University, and is currently working on her first novel. 
Ndinda Kioko
Ndinda Kioko is a Kenyan writer whose works have appeared on several platforms and publications including The Trans-African , BBC Radio 4 , Wasafiri Magazine , Africa39 , and Jalada Africa . She has also produced a TV show for M-net Africa. Ndinda was a Miles Morland Scholar for 2014. She was awarded the 2017 Wasafiri New Writing Prize and the Richard & Juliette Logsdon Award for Creative Writing. She has an MFA in Creative Writing (Fiction) from the University of Oregon.
Emily Strasser
Emily Strasser received her MFA in nonfiction from the University of Minnesota. Her essays have appeared in Catapult , Ploughshares , Guernica , Colorado Review , The Bulletin of Atomic Scientists , and Tricycle , and twice listed as notable by Best American Essays . She was a winner of the 2015 Ploughshares Emerging Writer's Contest, and a 2016 AWP Intro Award. Her writing and research have been supported by the Minnesota State Arts Board, the Jerome Foundation, and the W.K. Rose Fellowship from Vassar College.
Rachel M. Hanson
Rachel M. Hanson holds an MFA from the University of Utah and a PhD in literature and nonfiction from the University of Missouri. Her essays and poems can be found in  The Iowa Review ,  Best New Poets 2016 ,  Best of the Net Anthology 2015 ,  Creative Nonfiction ,  The South Dakota Review ,  American Literary Review ,  The Minnesota Review ,  Entropy Magazine ,  Ninth Letter , and elsewhere. She is a former nonfiction editor for  Quarterly West  and currently reads for  The Masters Review . In the summers she runs the Colorado River through the Grand Canyon, which is the inspiration for her newest collection of essays.
Emily Jaeger
Emily Jaeger is the author of the chapbook  The Evolution of Parasites ( Sibling Rivalry Press ) illustrated by Robin Levine. Her poems have appeared in  Four Way Review ,  TriQuarterly , and  The Offing  among others. Emily received her MFA from the University of Massachusetts Boston and she has also received fellowships from Literary Lambda, TENT, the New York State Summer Writers Institute, and an Academy of American Poet's Prize.
Nana Kwame Adjei-Brenyah
Nana Kwame Adjei-Brenyah is from Spring Valley, Rockland County, New York. He is a graduate of the Syracuse MFA program in fiction. His stories have appeared or are forthcoming in Broken Pencil Magazine , Pembroke , Compose , Printer's Row , and others. He was a 2016 finalist for the Nelson Algren Literary Award and he is working on his first collection of short fiction.
Erin J. Mullikin
Erin J. Mullikin hails from the deepest earth in South Carolina and has an MFA from Syracuse University, where she edited Salt Hill Journal. She is the author of the chapbooks, When You Approach Me at the Lake of Tomorrow (Slash Pine Press) and Strategies for the Bromidic (dancing girl press), and her poems and short fiction have appeared in elsewhere , Ghost Ocean , Sprung Formal , alice blue review , Phantom , Arts & Letters , and Best New Poets 2014 , among others. She is a founding editor for NightBlock and Midnight City Books .
Thomas Mira y Lopez
Thomas Mira y Lopez is from New York. He has an MFA in creative nonfiction from the University of Arizona, where he worked as nonfiction editor for  Sonora Review  and managing editor for  Fairy Tale Review . His essays appear or are forthcoming in  Seneca Review, The Pinch, Hotel Amerika, CutBank  and other journals. He has received scholarships from Bread Loaf and the New York State Summer Writers Institute. He is at work on a book of personal essays about cemeteries and burial grounds that explores where we place and how we remember the dead.
D.J. Thielke
D.J. Thielke received her MFA in fiction from Vanderbilt University. Her stories have appeared in  Arts&Letters, The Cincinnati Review, Indiana Review, Mid-American Review,   Bat City Review , and  Crazyhorse , among others. She was the 2013-2014 James C. McCreight Fiction Fellow at the Wisconsin Institute for Creative Writing, the inaugural fall 2014 Stone Court Writer-in-Residence, and was most recently a summer fellow at the Island Institute in Sitka, Alaska.
Chelsea Biondolillo
Chelsea Biondolillo has a dual MFA in creative writing and environmental studies from the University of Wyoming. In 2012, she was an NSF-funded Think Write Publish communication fellow, and in 2014 she was awarded the Carter Prize for the Essay from  Shenandoah . Her prose has appeared or is forthcoming in  Orion, Sonora Review,   Guernica,  River Teeth ,  Hayden's Ferry Review  and others. She has written on the art of essay for  Essay Daily ,  Brevity ,  Passages North , and  Creative Nonfiction . Her journalism has appeared in  Nautilus ,  Science,  and on state and national public radio. She is currently working on a book about vultures that combines travel, memoir, ecology, and natural history.
Javier Zamora
Javier Zamora was born in El Salvador in 1990. When he was nine, he migrated to the United States. He is a CantoMundo fellow and has received scholarships from Breadloaf, Napa Valley, Squaw Valley, and VONA writer's conferences. Zamora's poems appear in  Best New Poets 2013, Narrative Magazine, Ploughshares, Poetry,  and elsewhere. He is the recipient of a National Endowment for the Arts fellowship,  Meridian's Editor's Poetry Prize, and  CONSEQUENCE's  poetry prize.
Caitlin Hayes
Caitlin Hayes has an M.A. in English Literature from the University of New Hampshire and an M.F.A in fiction from Syracuse University, where she served as fiction editor for  Salt Hill Journal . Her honors include a Joyce Carol Oates Award for short fiction and a scholarship to Bread Loaf. She has stories forthcoming in the  New England Review  and  The Southern Review .
Dong Li's honors include DAAD (twice), Vermont Studio Center and Henry Luce Foundation fellowships. Born and raised in the People's Republic of China, Li has degrees from Deep Springs College and Brown University. His work has appeared in  Conjunctions and comma , poetry.
Amy Butcher
Amy Butcher is a graduate of Gettysburg College and the Nonfiction Writing Program at the University of Iowa. Her essays and short stories have appeared or are forthcoming in  The Indiana Review, The Colorado Review, Brevity, The Rumpus,  and  Hobart , among others, and she is a recent recipient of a Stanley Grant for International Research. She is the managing editor of  Defunct  and a former intern for the Gettysburg Review , and is currently at work on a book-length essay that meditates on the historic battlefield town of Gettysburg, Pennsylvania, and a murder that recently occurred there. The book considers the nature of friendship and the parameters inherent in the relationships we seek.
Chinelo Okparanta
Chinelo received her BS from Penn State University, her MA from Rutgers University, and her MFA from the Iowa Writers' Workshop. Her works have appeared or are forthcoming in  Granta, The Kenyon Review, The Iowa Review, The Southern Review, The Coffin Factory, Conjunctions, Subtropics , and elsewhere. She has taught at the University of Iowa, where she served as a Dean's Fellow and subsequently as the Provost Postgraduate Visiting Writer for Fiction. Her short story collection will be published in 2013, followed shortly by her debut novel, tentatively entitled  Under The Udara Trees .
Molly Beer is a graduate of Duke University, the Bread Loaf School of English, and the University of New Mexico MFA program, where she served as nonfiction editor for Blue Mesa Review . In addition to the American Southwest, she has lived in El Salvador, Ecuador, and Mexico, and her subsequent essays grapple with the politics of place. Her most recent work appears in Salon , Guernica , Glimpse , Copper Nickel , and Room Magazine , and she is co-author of Singing Out , an oral history published by Oxford University Press (2010).
George David Clark
George David Clark's honors include a Henry Hoyns Fellowship from the University of Virginia and the Provost's Doctoral Fellowship at Texas Tech. His poems appear in such journals as The Cimarron Review , The North American Review , Quarterly West , Shenandoah , Smartish Pace , Southern Poetry Review , Willow Springs and elsewhere, and can be found reprinted online at Verse Daily and Poetry Daily . He also serves as editor of the journal, 32 Poems .
Jasmine Bailey
Jasmine Bailey graduated from Colgate in 2005 and the University of Virginia MFA program in 2010. There, she worked as poetry editor for the semi-annual literary journal, Meridian . Her chapbook of poems, Sleep and What Precedes It , won the Longleaf Press 2009 Chapbook Prize and her book-length collection of poetry, Alexandria , will be published by Carnegie Mellon. Her poems have appeared or are forthcoming in the minnesota review , Poet Lore , 32 Poems , The Carolina Quarterly , The Portland Review , and the Birmingham Poetry Review , among others.
Marjorie Celona
Marjorie Celona studied writing at the University of Victoria and the Iowa Writers' Workshop, where she was an Iowa Arts Fellow and recipient of the Ailene Barger Barnes Prize for Excellence in the Short Story. Her stories have appeared in The Best American Nonrequired Reading (2008), Glimmer Train , Crazyhorse , Best Canadian Stories (2007, 2010, 2012), The Fiddlehead , Indiana Review , and elsewhere. In May, she will be writer-in-residence at Hawthornden Castle in Scotland, where she plans to finish her novel.
Sarah Beth Childers
Sarah finds much of her writing inspiration in the creeks, hills, and train tracks around where she grew up in Huntington, West Virginia. She has a bachelor of arts in history from Marshall University and a master of fine arts in creative nonfiction from West Virginia University. She has taught writing at West Virginia University and medieval literature and history at Duke University's Talent Identification Program. Her work has appeared in SNReview and Paddlefish , and her short story "Red Ribbon" was nominated for a Pushcart Prize in 2009
Anthony Eleftherion
Anthony Eleftherion's stories have appeared in the Madison Review and Epoch . He holds a bachelor's degree in philosophy from Rutgers University and a master of fine arts degree from the Iowa Writers' Workshop, where he was a Maytag fellow. A short film he co-wrote received a student academy award, the HBO short film award, the grand jury awards at South by Southwest and Palm Springs Film Festivals, and was an official selection of the Sundance film festival. He is completing a collection of stories about Brooklyn, NY.
COACHING + PUBLISHING

FORMATTING + DESIGN
FREELANCE COMMUNITY
21 Writing Fellowships for Authors, Journalists and Poets
by Rebecca McCray | Feb 16, 2021
If you're keen to focus on a long-term writing project, but you aren't sure how to fund your work, writing fellowships may provide the support you need.
Writing fellowships usually consist of funding and space for writers to focus on a creative project rather than the business of supporting themselves. 
From writing fellowships for new writers to creative writing fellowships, there are plenty of different types for any kind of creative who is looking for a chance to let their projects thrive.
Many writing fellowships require residency in a particular city for the duration of the fellowship, while others fund international travel — but all provide financial support that enables their recipients to fully dedicate their time to writing .
The world of writing fellowships can be dizzying, but we've sifted through the options and found some of the best for poets, fiction writers, nonfiction writers and journalists alike.
The opportunities here run the gamut from fellowships for established writers to launching pads for those at the beginning of their careers . Each fellowship on the list is an annual contest, so if this year's deadline has passed, you'll have lots of time to prepare for next year.
21 writing fellowships for authors, journalists and poets
Wherever you are in your writing career, you're bound to find a tempting option or two on this list of writing fellowships that could help you pursue your next project.
Here are 21 writing fellowships to consider.
1. Steinbeck Fellow Program at San José State University
If you're up for a year in San José and need funding to focus on your work of fiction, creative nonfiction, drama or biography, this is a fantastic opportunity. 
Named in honor of John Steinbeck, this $15,000 fellowship allows writers to spend a year working on their manuscript while benefiting from the faculty and graduate-student community at SJSU.
The fellowship is designed for writers who have had "some success, but have not published extensively." It requires a one- to three-page proposal, including a timeline, three letters of recommendation, a resume and a writing sample under 25 pages.
Deadline: Applications are usually due in early January.
2. Mother Jones Ben Bagdikian Fellowship Program
Emerging journalists who want to immerse themselves in an investigative reporting environment will be hard-pressed to find a better opportunity than this. 
Based in San Francisco or Washington, D.C., Mother Jones' editorial fellowship program is renowned for its impressive alumni list. Fellows do hands-on research and fact-checking and have opportunities to pitch online and print content.
Mother Jones offers fellows $3,250.  To apply, submit a cover letter, resume, two writing samples (links preferred!) and contact information for two references.
Deadline: New fellowship cohorts generally begin on the first Monday in December, and unless otherwise noted, applications are due October 1. 
3. Provincetown Fine Arts Center Fellowship
For 10 emerging poets and 10 fiction writers, this fellowship is an opportunity to spend seven months at the Fine Arts Work Center at the tip of Cape Cod. Fellows are provided with housing and workspace, as well as a modest monthly stipend of $750.
Optional activities with other fellows (including visual arts fellows) offer a chance to bounce ideas off a community of artists, if you'd like. Visiting artists and writers are available to fellows throughout the year, as well. Writing fellowships run October through April 30.
Deadline: Check back for details. Applications for the 2022-23 fellowship open in the Fall of 2021.
4. The Kenyon Review Fellowship
Creative writers of all genres are invited to apply for this two-year fellowship at Ohio's Kenyon College. Applicants should have experience teaching literature or creative writing to undergraduate students, as they will be required to teach one semester each year in the English department while undertaking "a significant writing project."
Additionally, fellows are expected to work on a variety of creative and editorial projects for The Kenyon Review . Fellows receive an annual salary plus benefits. Be sure to highlight your "achievement and long-term potential" in your application, and play up your teaching experience.
Deadline: Applications for this two-year program are accepted every other year, and the 2021 cohort begins this August. In 2020, applications were due in December. 
5. Loft McKnight Artist Fellowships
Minnesota writers, this one's for you. Five $25,000 writing fellowships are available: four in creative prose or poetry and one creative writing fellowship for a writer of children's literature. 
If you're just starting out, you might want to bookmark this for later in your career.  To be eligible, writers must demonstrate past publication, either a book or a significant number of literary journal publications.
The funding is intended to enable its recipients to focus on their craft for the year. Your 15-18 page writing sample will be the bedrock of your application.
Deadline: The deadline is usually in the fall; in 2020, it was November 20. 
6. Bucknell Stadler Fellowship
Heads up, poets! Recent MFA grads have a chance to focus on completing their first book of poetry while honing their editorial and arts administration skills. 
Stadler fellows spend their academic year at Pennsylvania's Bucknell University, assisting with the administration of the Stadler Center for Poetry and/or editing the school's literary journal, in addition to working on their own writing.
The 10-month fellowship provides a "competitive stipend" (it was at least $33,000 in 2020), health insurance and housing. 
Poets who have published a full-length collection are not eligible for the fellowship, so this is a great opportunity for those looking to jumpstart their post-MFA careers.
Deadline: TBD. The Stadler Fellowship's applications open in late August . 
7. Nieman Fellowships
Perhaps the most generous award available for established journalists, the Nieman Foundation at Harvard offers writing fellowships for up to 24 journalists each year. Fellows spend two semesters at the college delving into master classes, shop talks, seminars and journalism conferences.
Most fellows receive a stipend of $75,000 over the nine months they spend at Harvard, in addition to housing, childcare and healthcare. 
This fellowship is less about making time to write and more about the chance to benefit from a community of fellow journalists and academics before you return to your professional life.
You must have five years of full-time media experience under your belt to apply. Also noteworthy: 12 of the 24 fellows will be international journalists, so non-U.S. citizens should definitely consider this opportunity.
Deadline: The deadline for international candidates is generally in early December (this cycle's   was December 1, 2020), while U.S. candidates can generally apply until late January (January 31, 2021). Keep an eye out for more information on when 2022-2023 Nieman Fellowships applications open.
8. James Jones Fellowship Contest
Fiction writers wrestling with their first (unpublished) novel should take note of this fellowship. Named in honor of the "From Here to Eternity" author, the winner will receive $10,000, and two runners up will receive $1000 each.
Applicants are asked to submit an outline of their novel-in-progress, as well as the first 50 pages of their manuscript (so if your novel is still in idea form, take advantage of NaNoWriMo and get cracking). If you have more than one novel in the works, you're welcome to submit multiple manuscripts as separate entries. An entry fee of $30 is required to accompany each submission.
Deadline: Applications are generally due in mid-March (with this year's program deadline being March 15, 2021).
9. The Hodder Fellowship
Open to writers and visual artists (and composers, choreographers, performance artists or other kinds of artists), the Hodder Fellowship invites fellows to pursue independent projects at Princeton's Lewis Center for the Arts during the academic year. Fellows are awarded a $84,000 stipend over the 10-month fellowship, plus $5,000 for research expenses. 
The "exceptional promise" called for by the criteria should take the form of advanced degrees and previously published work, as most literary fellows have published a book prior to their fellowship year.
The Hodder is unique, as far as campus-based writer fellowship programs are concerned: Fellows are not required to teach or even interact with campus life if they don't want to. The Lewis Center looks for writers who are at a crucial moment in their career, where they'll greatly benefit from time away from busy lives.
Deadline: Applications are generally due in mid-September. The next application cycle will open in July 2021.
10. Pen Center Emerging Voices Fellowship
Designed for underrepresented, marginalized writers who are isolated from the literary establishment, this fellowship fosters the careers of emerging writers through coursework, readings, Q&A sessions with prominent authors, mentorship, scholarship opportunities and a $1,000 stipend. 
From January to July in Los Angeles, Emerging Voices fellows will work on a specific writing project with a professional mentor in addition to attending organized events and classes.
Writers of fiction, creative nonfiction and poetry are invited to apply. The fellowship is not open to writers who have an undergraduate degree in English with a creative writing emphasis, or those who have completed MA or MFA creative writing programs. And if you're already widely published or can boast an array of accolades, this isn't the fellowship for you.
Deadline: The Emerging Voices Fellowship is currently on hiatus due to COVID-19. However, plans are in the works to resume. Stay tuned for more information in the coming months. 
11. Persephone Miel Fellowship
This is a great opportunity for non-U.S. journalists who want to amplify their reporting on issues that are neglected or under-reported by the mainstream media. 
The fellow will receive a $5,000 travel grant to support their reporting, in addition to $2,500 to travel to Washington, D.C., where they will take part in a two-day workshop and meet with Pulitzer Center staff and journalists.
Any journalists (staff writers or freelancers) outside of the U.S. who wish to report from their home country are invited to apply, especially women or journalists from developing countries.
Deadline: The deadline is typically in early March. Call dates for 2021 have not yet been announced. 
12. Wallace Stegner Fellowship
Ten talented fellows — five fiction writers and five poets — will spend two years writing at Stanford University. Fellows participate in a weekly three-hour workshop led by Stanford faculty, but have no other campus duties beyond workshop attendance. 
However, it is expected that fellows will attend the numerous enriching events offered by Stanford's creative-writing program, such as readings and lectures given by established authors.
The main goal of the fellowship is to complete or make significant progress on a manuscript. The Stegner is open to any interested writer, regardless of age or nationality, and pays a living stipend of $43,000 per academic year,  in addition to tuition and health insurance. Applicants cannot be enrolled in a degree program at the same time as their fellowship.
Deadline: The application period is usually open during the fall. The deadline in 2020 was December 1.
13. Patrick Henry Writing Fellowship
If delving into American history through your writing is your dream, this one's for you. This nine-month residency at Washington College in Chestertown, Md. is open to both scholars and non-academic writers whose work focuses on "the history or legacy of the U.S. founding era and the nation's founding ideas."
Candidates should be able to demonstrate significant progress on their writing project prior to applying and should have extensive publication history under their belts. The fellowship pays $45,000 and provides health insurance, faculty privileges and a book allowance.
Deadline: The deadline is generally in the fall, with this year's deadline set at November 15; check back soon for the 2022-2023 application.
14. Scripps Fellowship
Budding environmental journalists will swoon for the chance to spend two semesters at the University of Colorado at Boulder's Center for Environmental Journalism. 
In addition to undertaking an independent study which should lead to "a significant piece of journalistic work," fellows take at least three classes each semester in environmental science, law and policy, and participate in relevant field trips around Denver, Boulder and beyond.
Fellows receive $71,000 for the academic year. Five writing fellowships are awarded each year, and the fellowship is open to any U.S. citizen with five years of professional journalism experience under their belt, even if they have never reported on the environment.
Deadline: The application deadline is March 1, annually.
16. Wisconsin Institute for Creative Writing Fellows
This fellowship is for applicants with an MFA or PhD in creative writing who have no published books or only one full-length collection published by the application deadline. The Institute typically internationally awards two fiction fellowships and two poetry fellowships, and one third-year MFA fellowship to a current student.
The year-long writing fellowships provide "at least" $39,000 with "generous" health benefits, and it requires fellows to teach one course per semester. 
Fellows should live near Madison, Wis., and be available to fully participate in the local writing community, give a public reading and help select the following year's fellows.
Deadline: The application period is generally open in the winter, with a deadline set at March 1.
17. Leon Levy Center for Biography Fellowships
This program offers four writing fellowships at CUNY's Graduate Center. These fellowships run for an academic year and include a $72,000 stipend, in addition to writing space and research facility access.
Recipients spend time working on their projects, going to seminars, attending public events and being part of the community. First-time biography writers are preferred.
Deadline: Applications are typically due in early January.
19. O'Brien Fellowship in Public Service Journalism
This nine-month fellowship focuses on journalism "with the potential to drive action and improve lives." Applicants should have at least five years of professional experience and produce journalism regularly. 
Fellows work on public service journalism from a regional, national or international level, working from the O'Brien suite at Marquette University's Diederich College of Communication in Milwaukee.
Funds include a $70,000 salary stipend, and fellows can tap into generous allotments for housing ($up to 8,000), reporting-related travel and equipment (up to $8,000) and more.
Deadline: Applications typically open December 1, with the deadline in January (2020's deadline is January 20).
18. National Endowment for the Arts
Operating on a two-year cycle, fellowships in prose and poetry are available for writers at various career stages in alternating years through the National Endowment for the Arts Literature. That means fellowships in prose (fiction and nonfiction) are available for 2022, and fellowships in poetry will be offered in 2023. 
This competitive program offers $25,000 grants to a diverse range of published creative writers to support their efforts in writing, research, travel and other career advancement endeavors that result in the expansion of their portfolio of American art. "The criteria for review are the artistic excellence and artistic merit of the submitted manuscript," so be sure to submit your best work.
Deadline: March 10, 2021.
19. A Public Space Writing Fellowships
A Public Space is an independent, non-profit publisher of the award-winning literary and arts magazine of the same name. 
To support writers "who embrace risk in their work and their own singular vision," it offers six-month writing fellowships that includes editorial support from the magazine's editors to help you prepare a piece for publication in the magazine, a $1,000 honorarium, plus the opportunity to meet agents, editors and published writers in the publishing community.
Keep in mind only writers who've yet to be published or contracted to write a book-length work are eligible. To apply, you'll need a cover letter with a one-paragraph biographical statement and one previously unpublished prose piece of any word count.
Deadline: TBD for 2022. The 2021 deadline was January 31.
20. Emerging Writer Fellowship
If you're 18 and up and you have a passion for writing, you meet the criteria to apply to this year-long fellowship created by GrubStreet creative writing center. To develop new, exciting voices and eliminate some of the financial barriers to entering the publishing world, the Emerging Writer Fellowship provides three writers tuition-free access to GrubStreet's classes and conferences. 
Throughout the year, writers will attend seminars, multi-week courses of their choosing and conference sessions to learn more about the craft of writing and the publishing industry. Apply with a 500-word personal statement and writing samples.
In light of COVID-19, programming is currently taking place virtually. However, it's possible this cycle's fellows will be able to join in-person for classes and events later in 2021 and into 2022.
Deadline: February 22, 2021.
21. Emory University Creative Writing Fellowship
For the 2021-2023 fellowship cycle, poets are welcomed to spend two years in Emory University's English/Creative Writing Program. During your time there, you'll give a public reading, attend workshops and have access to Emory's famed Raymond Danowski Poetry Library, a 75,000-volume rare and modern poetry library.
As long as you have an MFA or Ph.D. with undergraduate creative writing teaching experience and a record of periodical publications but no published books, you qualify to apply to this fellowship that awards a salary of $45,000 plus health benefits. 
Deadline: TBD. The 2020 deadline was November 30.
Have you applied for or won a writing fellowship? If we missed any of your favorite fellowships, please share them in the comments!
This is an updated version of a story that was previously published. We update our posts as often as possible to ensure they're useful for our readers.
Photo via GuadiLab /  Shutterstock   links yes 1
Want to write a book, but no idea where to start?
Grab our free book outline template!
Memoir Writing Masterclass
Taught by a 6-Time Bestselling Author
Learn the 3 Core Elements of Every Memorable Memoir That You Need to Get Right
20 Websites for Finding Paid Writing Gigs
How to start a blog: a guide for writers, how to write a synopsis for your book: a guide for fiction and nonfiction writers, a complete guide to understanding, obtaining and using an isbn for your book, write about your furry friends: 18 pet publications that want your stories.
TOOLS FOR WRITERS
Tools, ebooks and courses, all vetted by our team
CHECK 'EM OUT
Post-MFA Resources
Follow on Tumblr
fellowships
residencies
international opportunities
Academic Jobs
More School
On Rec Letters
A Note on Fellowships
In my opinion, every MFA graduate should apply for at least some of the many Post-MFA fellowships out there, but no one should count on definitively getting one of these. As F. Scott Fitzgerald once wrote, "The test of a first rate intelligence is the ability to hold two opposed ideas in the mind at the same time, and still retain the ability to function." Applying for a post-MFA fellowship is kind of like buying a lottery ticket, so be sure to have some kind of backup plan for your post-MFA life that feels do-able to you or even exciting. The professional advantage to these fellowships is that when you apply for other things (jobs, colonies, etc.), a post-MFA fellowship will set you apart—it will mean that you've been vetted and approved by a 'higher power.' Most importantly, a fellowship will also give you more time to work on your writing.
The fellowships listed below range from more job-like (like the Colgate or the Keenan) to the more group-esque (like the Provincetown or the Stegner). Some, like the Stegner, require you to do workshops. Others, like the Exeter Fellowship, require you to teach high school. Still others, like the Colgate or Wisconsin, require you to teach college-level CW courses. Some require administrative work, like the Bucknell fellowship. Others are specifically for research projects (like the Steinbeck). Fellowships are broken up by writing-only, and writing and teaching, and arranged by application deadline. Please do not rely on these deadlines , as while I try to keep these updated, many of them change from year to year–check each fellowship deadline on your own!
A Note on Recommendation Letters
For many of these fellowships (and also for residencies or jobs), you will need to send recommendation letters from your professors. Do open up a file for these letters via Interfolio (the main online credentials service, which will hold your letters and transcripts for you). Have your professors send a confidential copy of the letter they write for you to your file, which will allow you to send that letter out to as many places as you wish.
WRITING FELLOWSHIPS
Bard Fiction Prize (Annandale-on-Hudson, NY) - Details: writer-in-residence appointment for one semester at Bard College (no teaching); for a fiction writer 39 or under with one book published; $30,000 stipend. Deadline: mid-June (usually June 15)
Princeton University Hodder Fellowship (Princeton, NJ) - Details: Writers and non-literary artists of exceptional promise to pursue independent projects at Princeton University for 1 academic year (with no teaching). Candidates have "much more than ordinary intellectual and literary gifts." Most successful Fellows have published a first book. $83,000 stipend. Also there's the Princeton Arts Fellowship : "Applicants should be early career….poets, novelists, playwrights…who would find it beneficial to spend two years teaching and working in an artistically vibrant university community. $83,000 stipend. Deadline: mid-September (usually September 17)
Bennett Fellowship at Exeter (Exeter, NH) - Details: $16,800 stipend plus housing and meals (and medical, dental, and long-term disability insurance); no teaching, but writer is informally available to help students with their writing from Sept-June. Look for the ad in Poets & Writers or the AWP Listings for updated listing. Deadline: Sept. 30
Cullman Center Fellowships (NYC) - Details: $75,000 and an office at the New York Public Library main branch to conduct research from their collections for the year. Deadline: Sept. 30
Provincetown Fine Arts Work Center Winter Fellowship (Provincetown, MA) - Details: 1 year, Oct-May with other artists; modest monthly stipend ($750/month) and place to live. You cannot have a book to apply to this. Deadline: Dec. 1
Stegner Fellowship , Stanford University (Palo Alto, CA) - Details: 2 years with other writers; $50,000 per year, plus tuition and health insurance; workshops weekly; opportunities to teach at Stanford for more income . Any writer can apply, regardless of age or publication history. Deadline: Dec. 1
CAAP Creative Writing Fellowship (Pittsburgh, PA) - Details: two-year fellowship at the University of Pittsburgh's Center for African American Poetry and Poetics for a post-MFA / post-doc with 0-1 books; fellow teaches one community workshop and does additional events in conjunction with the center; $48,000 plus health benefits. Deadline: usually January
Steinbeck Fellowships , San Jose State University (CA) - Details: 1 year for new writers of any age and background to pursue a significant project; $15,000 stipend and other support. Deadline: Usually Jan 2
James Merrill Writer-in-Residence Program (Stonington, CT) - Details: shorter or longer residencies; provides living and working space to a writer to complete a project of literary or academic merit in James Merrill's house on the water in Stonington; $1,100 stipend per month; usually goes to writers with at least one book, but not always. Deadline : October through Jan
Philip Roth Residence in Creative Writing , Bucknell University (Lewisburg, PA) - Details: 4 months of writing time; $5000 stipend, lodging, and an office; open to any genre. Deadline: Feb. 1
Ainsfield Wolf Fellowship (Cleveland, OH) - Details: two-year fellowship at Cleveland State University (in conjunction with the Poetry Center) in writing, publishing, and community outreach; $40,000 with health insurance and benefits. Deadline: usually Feb 1
Tulsa Artist Fellowships (Tulsa, OK) - Details: $20,000 plus free housing; open to writers. Fellowships begin in January. Deadline: usually March 1
Oxford American Jeff Baskin Writing Fellowship (Little Rock, AR) - Details: for writers in any genre proposing to write a book of creative nonfiction; writing and editorial fellowship that requires 20 hours of work per week on Oxford American; Sept-May; $10,000 stipend plus housing; more details here . Deadline: usually April 8
TEACHING & WRITING FELLOWSHIPS
The Kenyon Review Fellowships (Gambier, OH) - Details: 2 years, teaching 1 class/year and working on The Kenyon Review; "an annual stipend, plus health benefits" ($39,498 in 2022); must have completed MFA already, in the last 6 years, and have teaching experience. Deadline : Sept. 9-30
Jenny McKean Moore Writer , George Washington University (Washington, DC) - Details: 1 year, rotating genres (poetry, fiction, CNF); 2-2 teaching load (community workshop for DC residents & 1 course for GW students); $60,000 salary; looking for a writer with a book; see CW job wiki or AWP/MLA listing for details. Deadline: usually Nov. 1
Emory University Creative Writing Fellowship (Atlanta, GA) - Details: 2 year, with 2-1 teaching load; competitive salary, benefits. Three fellowships–one in poetry. one in fiction, one in playwriting. Check the AWP job listings or contact the department for the most current information on this fellowship. Fall 2020 is next search for poet and playwright. Deadline: Usually Nov
Gaius Charles Bolin Dissertation and Post-MFA Fellowships , Williams College (Williamstown, MA) – Details: 2-year fellowship, teaching 1 course/year; 3 fellowships/year for applicants from underrepresented groups, including ethnic minorities, those who are first-generation college graduates, women in predominately male fields, or disabled scholars; MFA candidates must be recent recipients of the degree; only those with degrees granted in the past year or the coming year are eligible to apply; $55,000 stipend with health insurance, housing assistance, computer, and $4000 start-up funds. Deadline: Nov. 15
Ann Plato Fellowship , Trinity College (Hartford, CT) - Details: 1-year fellowship, teaching 2 courses/year; 1 fellowship granted per year to post-doc or MFA in any field; "Applicants…will contribute to enhancing diversity at Trinity College by increasing ethnic and racial diversity, maximizing the educational benefits of diversity, and/or increasing the number of professors who can and will use diversity as a resource for enriching the education of students;" $50-55,000 plus full benefits. Deadline: Nov. 15
The Reginald S. Tickner Writing Fellowship , The Gilman School (Baltimore, MD) - Details: 2 year (as of 2017); teaching one class in creative writing, directing a speakers' series, advising the literary magazine, & working one-to-one with students on their writing (32-hours/week) at a private boys' school; salary is $35,000, plus full benefits package. Deadline: usually Dec. 7
Kenan Visiting Writer Program at University of North Carolina-Chapel Hill - Details: 1 year, rotating genres (poetry, fiction, CNF); 1-1 teaching load; $40,000 plus benefits; check the AWP listings for the most up-to-date salary and genre information on this fellowship. Deadline: usually Jan 31
Colgate University Olive B. O'Connor Fellowship in Creative Writing (Hamilton, NY) - Details: 1 year (August-May), with 1-1 teaching load; $40,500 stipend plus travel expenses and health insurance; open to writers of poetry, nonfiction prose, or prose fiction (they often take 2 writers/year). Deadline : usually Feb 1
Stadler Fellowship , Bucknell University/Stadler Center for Poetry (Lewisburg, PA) - Details: has been divided into 2 fellowships: Literary Editing and Literary Arts Administration. 10 months (Aug-June); fellow works 20 hours/week in Stadler Center for Poetry or editing West Branch , and also teaches in Bucknell Seminar for Younger Poets in June; $33,000, health insurance, housing, office space. Deadline : Feb. 1 (on hiatus 2023-24 so not accepting applications in 2022-23)
St. Alban's Writer in Residence (Washington D.C.) - Details: 1 year (Sept-June) teaching 1 CW class/semester at an all-boys private high school; $7725 for the year plus room in the dorms, meals and health insurance; contact Donna E. M. Denizé , English Department Chair, for more information or look for the ad in Poets & Writers or the AWP Listings. Deadline: usually Feb. 1
Hughes Fellowship in Creative Writing , Southern Methodist University (Dallas, TX) - Details: started in 2022, two 2-year fellowships, one in poetry and one in prose (fiction or CNF). 1-1 teaching load & additional public duties; $50,000 with full benefits. Must have completed MFA or PhD in past five years, and no second book. Deadline: usually Feb 9
Seven Hills School / Coombe Writer in Residence Program (Cincinnati, OH) - Details: 1 year (10 months), teaching a 1-1 of CW classes to Juniors and Seniors at a private school; $12,000 stipend, housing on campus, breakfast & lunch on school days, health insurance, and computer. See AWP listings, Poets & Writers, or the CW job wiki for updated listing. Deadline: Feb. 15 [2022 update - *not sure this is still active*]
Creative Writing Institute of Wisconsin Fellowship , UW-Madison - Details: 1 year, Aug 15-May 15 with other writers; 1-1 teaching load, CW classes; $39,000 for the year plus health insurance. Writers with 0-1 books eligible. Deadline: March 1
The Milton Postgraduate Fellowship (via Image /Seattle Pacific University (Seattle, WA) - For writers of "Christian commitment" - Details: 9 months (Sept. 15 - June 15), $16,000 stipend to work on first book, with mentorship; fellows will teach courses for Seattle Pacific University, give readings, and work on Image. Deadline: March 15 [as of 2021 this fellowship was being re-worked and is still on hiatus]
Interlochen Center for the Arts (Michigan) - Details: 1 semester teaching residency; 2 classes to high school students at fine-arts boarding school; office, computer, lunch, 1-bedroom apartment, stipend of $6500. See AWP listings for updated posting.
Penn State Altoona Emerging Writer in Residence - Details: 1 semester fall teaching residency; $10,000 in return for teaching one introduction to creative writing workshop, giving a public reading, visiting other creative writing courses and working informally with English major students. See CW job wiki, AWP listings, or PSU jobs site for updated posting. Deadline is usually mid-March. [2022 update: this fellowship might not exist any more]
ADDITIONAL GRANTS
Sustainable Arts Foundation Fellowships - grants of $6000 and $2000 for writers with at least one kid under 18
FELLOWSHIPS THAT SEEM TO BE DISCONTINUED
Axton Fellowships , University of Louisville (Louisville, KY) - Details: 2-year fellowship for 1 poet and 1 fiction writer; 1-1 teaching load, CW classes; $25,000/year plus benefits; check AWP listings or CW job wiki for most current listing. In 2015, this fellowship was not being offered. Deadline: Jan. 15 [Note: as of 2016 it seems like the Axton has been discontinued]
Hub City Writers Project (Spartanburg, SC) - Details: one 9-month residency per year (Sept - May) open to emerging writers who have completed a college degree in creative writing within the past five years or are pursuing a graduate degree in writing; residents receive lodging, utilities, and a stipend of $800/month; residencies include a community service component. Deadline: usually April 15 [Note: as of 2022 it seems this has been discontinued]

Stanford University
Wallace Stegner Fellowship
Unique among writing programs, Stanford University offers 10 two-year fellowships each year, 5 in fiction and 5 in poetry. All the fellows in each genre convene weekly in a 3-hour workshop with faculty.
Stegner Fellows are regarded as working artists, intent upon practicing and perfecting their craft. The only requirements are writing and workshop attendance. The fellowship offers no degree. We view it as more  of an artist-in-residence opportunity for promising writers to spend two years developing their writing in the company of peers and under the guidance of Stanford faculty .
In awarding fellowships, we consider the quality of the candidate's creative work, potential for growth, and ability to contribute to and profit from our writing workshops. Our fellows are diverse in style and experience, with talent and seriousness the true common denominators.
To be a Stegner Fellow:
We do not require any degrees or tests for admission
No school of writing is favored over any other
At least 18 years old
The Stegner Fellowship is a full-time academic commitment and is not intended to be pursued concurrently with another degree program. The fellowship includes a living stipend, and a fellow's tuition and health insurance are paid for by the Creative Writing Program. A f ellow must live close enough to Stanford in order to attend workshops, readings, and events.
At a Glance
2-year fellowship; admissions are staggered so there are 10 first year fellows and 10 second year fellows at Stanford at any given time
Fellows must write and attend a 3-hour weekly workshop
Workshop coincides with  Stanford's academic calendar ; fellows have the summer off to work, write, or travel
Though similar in some ways to a MFA program, the fellowship does not offer a degree
Includes a $50,000 living stipend
Applications are available to all who are interested; all applicants are notified of fellowship decisions in April
Application window: opens on September 1 and closes on December 1 at 11:59 pm (PST)
How to apply
Eligibility
Anyone interested in the Stegner Fellowship is welcome to apply! Prior book publication is not required, but please note: prior publication may suggest a career that has advanced beyond the point when the fellowship's instruction and workshop critique are most useful in a writer's development.
Yes. Anyone may apply, regardless of nationality. If accepted, you're considered at Stanford to be a non-matriculated graduate student for visa purposes. We'll work with you to obtain a J-1 visa.
Fellows must be 18 years old when they start the fellowship. Historically, we have accepted people as young as 22 and as old as 75.
Responsibilities
Primarily, Stegner Fellows are required to attend weekly, faculty-led workshops and to write, revise, and then write again, with the goal of a finished manuscript ready for publication.
However, to enrich one's fellowship experience, we encourage all fellows to attend various reading events and lecture series hosted by our program. In the past, we've enjoyed the presence of guest speakers such as Maggie Nelson, Kevin Young , Layli Long Soldier, Zadie Smith, and David Treuer. We also host public readings and colloquiums for our annual visiting poets-in-residence and visiting writers-in-residence.
During the first year of their fellowship, the fellows participate in our Stegner Fellow Reading series , where they give a public reading of their work. It's also possible for fellows to TA undergraduate courses, facilitate writing workshops, and offer special tutorials and independent studies to our undergraduate students.
Yes, one must live close enough to the Stanford main campus to attend weekly workshops, as well as readings and lectures by the program's visiting poets and writers.
The purpose of the fellowship is to give writers as much time as possible to work on their writing, free from the time constraints of full-time employment. Holding a full-time job during the fellowship runs counter to the intention of the fellowship.
The fellowship is a 2-year program and includes a living stipend of $50,000 per academic year. Our program also pays for each fellow's tuition and health insurance.
The Bay Area is a very expensive place to live. Realistically, an individual needs some form of supplemental income, which commonly means working during the summer.
Sometimes. Teaching appointments are not guaranteed, as priority goes to Ph.D. students who need the experience for their degree.
If you have questions about our fellowship, there are several ways to get answers:
Peruse our Application FAQ page
Email us at creative1 [at] stanford.edu
Or visit us in our main office: Margaret Jacks Hall (Building 460), Room 223
Thank you for your interest in the Wallace Stegner Fellowship!
Linda A. Cicero | Stanford News Service
Looking to the Future
Once the fellowship is over, what comes next.
In typical circumstances, all fellows have the opportunity to apply for a 2-year lectureship teaching undergraduate fiction or poetry at Stanford. Due to the pandemic, positions may not be available in the next few years.
But "life after the Stegner" is filled with a variety of career moves: some go on to graduate programs or other fellowship opportunities, some are independently successful as writers, and some move forward with adjunct or tenure-track university teaching positions.
Join our list
Join our Undergraduate Student List
Join our Public Events List
Mailing Address
Creative Writing Program 450 Jane Stanford Way, Bldg. 460 Stanford, CA 94305-2087
Connect With Us
Creative Writing Program Margaret Jacks Hall, Room 223 Phone : 650-723-0011 creative1 [at] stanford.edu Campus Map
SUNet Login
Fellowships
The 2023 cintas fellowships competition is now open (deadline: may 1st).
CINTAS Fellowships acknowledge creative accomplishments and encourage excellence in architecture & design, creative writing, music composition and the visual arts. Eligibility is limited to artists of Cuban citizenship or direct descent. Applications are reviewed by panels of qualified members from each artistic discipline. The Board of the CINTAS Foundation, Inc., awards fellowships based on the recommendations of the panels. CINTAS fellows are free to pursue their artistic activities as indicated in their application. The fellowships are not awarded to performing artists. Fellowships are not awarded more than twice to the same person. Second awards are granted only to candidates demonstrating outstanding artistic development.
Fellowships are awarded annually for the disciplines selected and announced on the website for each year. The amount of the fellowship is $20,000 currently. The award is considered taxable income by the Internal Revenue Service of the United States.
The CINTAS Fellowship Program is administered by the CINTAS Foundation Board.
APPLY FOR THE CINTAS ARCHITECTURE AND DESIGN FELLOWSHIP OF $20,000
APPLY FOR THE CINTAS CREATIVE WRITING FELLOWSHIP OF $20,000
APPLY FOR THE BRANDON FRADD MUSIC COMPOSITION FELLOWSHIP OF $20,000
APPLY FOR THE CINTAS PHOTOGRAPHY FELLOWSHIP OF $20,000
APPLY FOR THE CINTAS VISUAL ARTS FELLOWSHIP OF $20,000
CINTAS FELLOWSHIPS
Fellowship in Architecture & Design
Fellowship in Creative Writing
Fellowship in Music Composition
Fellowship in Photography
Fellowship in Visual Arts
Jump to navigation Skip to content
Search form
P&W on Facebook
P&W on Pinterest
P&W on Tumblr
P&W on Twitter
Find details about every creative writing competition—including poetry contests, short story competitions, essay contests, awards for novels, grants for translators, and more—that we've published in the Grants & Awards section of Poets & Writers Magazine during the past year. We carefully review the practices and policies of each contest before including it in the Writing Contests database, the most trusted resource for legitimate writing contests available anywhere.
Find a home for your poems, stories, essays, and reviews by researching the publications vetted by our editorial staff. In the Literary Magazines database you'll find editorial policies, submission guidelines, contact information—everything you need to know before submitting your work to the publications that share your vision for your work.
Whether you're pursuing the publication of your first book or your fifth, use the Small Presses database to research potential publishers, including submission guidelines, tips from the editors, contact information, and more.
Research more than one hundred agents who represent poets, fiction writers, and creative nonfiction writers, plus details about the kinds of books they're interested in representing, their clients, and the best way to contact them.
Trying to get your work published can feel like wandering in a maze. If you are running into one dead end after another, not sure which way to turn, Poets & Writers can demystify the process and help you reach your destination—publication.
Every week a new publishing professional shares advice, anecdotes, insights, and new ways of thinking about writing and the business of books.
Stay informed with reports from the world of writing contests, including news of extended deadlines, recent winners of notable awards, new contest announcements, interviews with winners, and more.
Since our founding in 1970, Poets & Writers has served as an information clearinghouse of all matters related to writing. While the range of inquiries has been broad, common themes have emerged over time. Our Top Topics for Writers addresses the most popular and pressing issues, including literary agents, copyright, MFA programs, and self-publishing.
Our series of subject-based handbooks (PDF format; $4.99 each) provide information and advice from authors, literary agents, editors, and publishers. Now available: The Poets & Writers Guide to Publicity and Promotion, The Poets & Writers Guide to the Book Deal, The Poets & Writers Guide to Literary Agents, The Poets & Writers Guide to MFA Programs, and The Poets & Writers Guide to Writing Contests.
Find a home for your work by consulting our searchable databases of writing contests, literary magazines, small presses, literary agents, and more.
Poets & Writers lists readings, workshops, and other literary events held in cities across the country. Whether you are an author on book tour or the curator of a reading series, the Literary Events Calendar can help you find your audience.
Get the Word Out is a new publicity incubator for debut fiction writers and poets.
Find information about venues that host readings and author events, including bookstores, bars, cafes, libraries, literary arts centers, and more. The Reading Venues database includes details about how to schedule your own reading, admission fees, audience size, parking and transit information, and more.
Research newspapers, magazines, websites, and other publications that consistently publish book reviews using the Review Outlets database, which includes information about publishing schedules, submission guidelines, fees, and more.
Well over ten thousand poets and writers maintain listings in this essential resource for writers interested in connecting with their peers, as well as editors, agents, and reading series coordinators looking for authors. Apply today to join the growing community of writers who stay in touch and informed using the Poets & Writers Directory.
Download our free app to find readings and author events near you; explore indie bookstores, libraries, and other places of interest to writers; and connect with the literary community in your city or town.
Let the world know about your work by posting your events on our literary events calendar, apply to be included in our directory of writers, and more.
Find a writers group to join or create your own with Poets & Writers Groups. Everything you need to connect, communicate, and collaborate with other poets and writers—all in one place.
Find information about more than two hundred full- and low-residency programs in creative writing in our MFA Programs database, which includes details about deadlines, funding, class size, core faculty, and more. Also included is information about more than fifty MA and PhD programs.
Whether you are looking to meet up with fellow writers, agents, and editors, or trying to find the perfect environment to fuel your writing practice, the Conferences & Residencies is the essential resource for information about well over three hundred writing conferences, writers residencies, and literary festivals around the world.
Discover historical sites, independent bookstores, literary archives, writing centers, and writers spaces in cities across the country using the Literary Places database—the best starting point for any literary journey, whether it's for research or inspiration.
Search for jobs in education, publishing, the arts, and more within our free, frequently updated job listings for writers and poets.
Poets & Writers Live is an initiative developed in response to interviews and discussions with writers from all over the country. When we asked what Poets & Writers could do to support their writing practice, time and again writers expressed a desire for a more tangible connection to other writers. So, we came up with a living, breathing version of what Poets & Writers already offers: Poets & Writers Live.
Establish new connections and enjoy the company of your peers using our searchable databases of MFA programs and writers retreats, apply to be included in our directory of writers, and more.
Bring the literary world to your door—at half the newsstand price. Available in print and digital editions, Poets & Writers Magazine is a must-have for writers who are serious about their craft.
View the contents and read select essays, articles, interviews, and profiles from the current issue of the award-winning Poets & Writers Magazine .
Read three decades of essays, articles, interviews, profiles, and other select content from Poets & Writers Magazine .
View the covers and contents of every issue of Poets & Writers Magazine , from the current edition all the way back to the first black-and-white issue in 1987.
In our weekly series of craft essays, some of the best and brightest minds in contemporary literature explore their craft in compact form, articulating their thoughts about creative obsessions and curiosities in a working notebook of lessons about the art of writing.
The Time Is Now offers weekly writing prompts in poetry, fiction, and creative nonfiction to help you stay committed to your writing practice throughout the year. Sign up to get The Time Is Now, as well as a weekly book recommendation for guidance and inspiration, delivered to your inbox.
Every week a new author shares books, art, music, writing prompts, films—anything and everything—that has inspired and shaped the creative process.
Watch videos, listen to audio clips, and view slideshows related to articles and features published in Poets & Writers Magazine .
Ads in Poets & Writers Magazine and on pw.org are the best ways to reach a readership of serious poets and literary prose writers. Our audience trusts our editorial content and looks to it, and to relevant advertising, for information and guidance.
Start, renew, or give a subscription to Poets & Writers Magazine ; change your address; check your account; pay your bill; report a missed issue; contact us.
Peruse paid listings of writing contests, conferences, workshops, editing services, calls for submissions, and more.
Read select articles from the award-winning magazine and consult the most comprehensive listing of literary grants and awards, deadlines, and prizewinners available in print.
Each year the Readings & Workshops program provides support to hundreds of writers participating in literary readings and conducting writing workshops. Learn more about this program, our special events, projects, and supporters, and how to contact us.
Find information about how Poets & Writers provides support to hundreds of writers participating in literary readings and conducting writing workshops.
National Endowment for the Arts
Creative writing fellowships.
Printable Version
Log in to Send
Log in to Save
Around 35 grants of $25,000 each are given annually in alternating years to poets and prose writers to "enable the recipients to set aside time for writing, research, travel, and general career advancement." Applications in prose will be accepted for 2023. Writers who are citizens or permanent residents of the U.S. and who have published at least five different short stories, works of short fiction, creative essays, or excerpts from larger works; a novel or novella; or a volume or collection of short fiction or creative nonfiction over the last seven years are eligible to apply. Using only the online submission system, submit a completed application, which includes a brief project description, 20 to 25 pages of a prose writing sample, and a list of publications by March 8. There is no entry fee. Visit the website for complete guidelines. 
National Endowment for the Arts, Creative Writing Fellowships, 400 Seventh Street SW, Washington, D.C. 20506. (202) 682-5034. 
Search form
Mission and History
Community Partners
Dream Space
Studio in African American Poetry and Poetics
Fellowship In Creative Writing @ CAAPP
Poetry Partnership of Pittsburgh
2023 CAAPP Book Prize
Close Reading The Emergency!: Black Study Prompts
Collective Protest & Rebellion: Black Study Prompts
Wit(h)ness: Prompts for Thinking in Creative Practice
Upcoming Events
Past Events
Photo Galleries
Video & Audio Gallery
CAAPP ULS Collection
Cave Canem Oral History Project
Unruly Collaborations
African American Poetics Online Archive
Opportunities
CAAPP Creative Writing Fellowship
The fellowship in creative writing at the center for african american poetry and poetics is a two-year fellowship for poets who have completed an mfa or phd and have published no more than one full-length book., while the primary goal is to provide an early-career poet with time and space to pursue their own creative work, the fellow also teaches one community workshop each year; is a guest presenter in the course studio in african american poetry and poetics; participates in co-lab, the interactive public forum in which visiting writers and artists present their work in progress; gives one public reading with a q&a; facilitates one session of the writers' café; and has the option to teach a course at the university. .
The full application can be found here!
We at CAAPP are thrilled to announce that Xan Phillips is our 2021-23 Fellow in Creative Writing.
Xan Phillips is a Whiting Award-winning poet and visual artist from rural Ohio. The recipient of a LAMBDA Literary Award, and the Judith A. Markowitz Award for Emerging Writers, Xan is the author of  HULL  (Nightboat Books 2019) and  Reasons for Smoking , which won the 2016 Seattle Review Chapbook Contest judged by Claudia Rankine. He has received fellowships from Brown University, Callaloo, Cave Canem, The Conversation Literary Festival, Oberlin College, the Wisconsin Institute for Creative Writing, and are the 2021-2023 Center for African American Poetry and Poetics Fellow. His current projects include an experimental nonfiction manuscript, a book of ekphrastic poetry, and an ever-growing visual art studio practice. Xan's poetry has appeared in  Berlin Quarterly Review, BOMB Magazine, Crazyhorse, Poets.org , and  Virginia Quarterly Review  and anthologies such as  Best Experimental Writing (Weslyan Press 2020) and  We Want It All: An Anthology of Radical Trans Poetics (Nightboat Books 2020). His paintings have been featured in Kenyon Review , The Poetry Projec t, and the cover of American Poets Magazine . For more, visit X an at his website .
Runner Up: Nabila Lovelace
Finalists (in alphabetical order):
Diamond Forde Niki Herd Imani Elizabeth Jackson Naima Yael Tokunow
Past Fellows
2019-2021: justin phillip reed, inaugural , 2017-2019: rickey laurentiis.
Applying for a Poetry or Fiction Fellowship
Applications open in January for the WICW Poetry and Fiction Fellowships, awarding stipends of around $40,000 and generous health benefits. The submission deadline is March 1. Please read our instructions and eligibility requirements, below, before clicking here to upload your application .
To be eligible, applicants must have completed or be scheduled to complete an MFA or PhD in Creative Writing by August 15 of the fellowship year. Eligible applicants may have published no more than one full-length collection or book of poetry, fiction, or creative nonfiction as of the March 1 deadline. Individuals who have never published a full-length collection or book remain eligible, of course. Successful applicants must commit to reside in the Madison area for the full duration of the Fellowship from mid-August to mid-May (holiday and other travel are of course permitted); to teach one section of undergraduate mixed-genre or single-genre creative writing each semester; to hold no other teaching, graduate study or fellowship obligations; to assist in the selection of the Brittingham and Felix Pollak Prizes in Poetry , the University of Wisconsin's  undergraduate writing prizes , and the following year's Wisconsin Institute for Creative Writing Fellowships; and in general to participate fully in the life of the Madison writing community during the fellowship period. For more details regarding the responsibilities and privileges of our fellows, please  see the main fellowships page .
Applicants should prepare the following materials before  applying :
A $50.00 Application Fee, paid online by credit card.
A resume or curriculum vitae, concluding with the names, phone numbers, and email addresses of two recommenders.
A writing sample consisting of either 10 pages of poetry (single-spaced and uploaded as a pdf) or up to 30 pages of fiction (double-spaced and uploaded as a pdf). Fiction applications must consist of either one short story or a novel excerpt.  Your name  must not  appear anywhere on your manuscript , and while previously published work may be submitted, your manuscript must in no way indicate that your work has been published.
Do not include more than one genre in a single submission. You may apply in more than one of our fellowship genres, but you must upload a separate application for each, with separate application fees. If you are submitting short fiction, please do not send more than one short story. The limit is one story no matter how short that story may be. If you send more than one story, we will only read the first. If you are sending a novel excerpt you may (but need not) include a brief synopsis (one or two paragraphs) of the novel, as page one of the manuscript.
The poetry and fiction fellows will be chosen by May 1 each year, and announced on  the fellows page . If you have questions concerning these fellowships that are not answered in the FAQ below, please contact Sean Bishop and Ron Kuka, Administrators of the Wisconsin Institute for Creative Writing, at  institut[email protected] .
Wisconsin Institute Alumni Spotlight: Jaquira Díaz
Jaquira Díaz was born in Puerto Rico and raised in Miami. She is the author of Ordinary Girls: A Memoir, winner of a Whiting Award, a Florida Book Awards Gold Medal, and a Lambda Literary Awards finalist. Ordinary Girls was an Indies Introduce Selection, a Barnes & Noble Discover Great New Writers Notable Selection, an Indie Next Pick, and a Library Reads pick. Díaz's work has been published in The Guardian, Time Magazine, T: The New York Times Style Magazine, and The Best American Essays 2016, among other publications. She is the recipient of two Pushcart Prizes, an Elizabeth George Foundation grant, and fellowships from the MacDowell Colony, the Kenyon Review, and the Wisconsin Institute for Creative Writing.
Her second book, I Am Deliberate: A Novel, is forthcoming from Algonquin Books. She is Assistant Professor in the MFA Creative Writing Program at Colorado State University.
Fellowship FAQ
Required Degree
Q: I don't have an MFA in Creative Writing, but I am a serious writer with a record of publications. May I apply for a fellowship?   A: Unfortunately, no. To be eligible for a Wisconsin Institute for Creative Writing fellowship, you must have completed an MFA or PhD in Creative Writing by August 15th of the fellowship year. We cannot waive this rule even for those with a record of publications or other special circumstances.
Q: I have a graduate degree in a field other than creative writing. Am I eligible for a fellowship?  A: Again, we have to say no. This question is usually asked by persons holding PhDs in other fields. Unfortunately, we are not able to award fellowships to persons with PhDs in any other area, including English literature, composition, theater, or other areas of English or theater studies. Even if you have a PhD in English, took graduate-level writing workshops, and wrote a creative dissertation, we still cannot offer you a fellowship if your PhD is not specifically in creative writing.
Q: May I apply for a fellowship if I have an MA in creative writing?   A: Once again, no. Although in the past we did give fellowships to persons with MAs in creative writing, we have changed that rule as the MFA has become the standard terminal degree in creative writing. We make an exception only for applicants who received a graduate degree in Creative Writing in Europe or another part of the world where the MA is the standard degree in creative writing.
Previous Books (fiction, poetry, & HEAF fellowships only)
Q: Am I eligible if I have already published a novel or a full-length collection of poetry, short stories, or creative nonfiction?  A: Yes. We allow applicants to have published or have forthcoming one full-length book of creative writing prior to the March 1 application deadline. If you have published more than one book by that deadline, however, you are not eligible.
Q: I have not published a book-length collection. Am I still eligible? Should I bother applying?  A: Yes! Our reading process is anonymous; most of our fellows will not have published a collection prior to being selected. Since we opened the fellowships to applicants with one book in 2012, we have accepted only a small number previously published fellows; all the rest have been unpublished.
Q: I've published more than one book that is neither fiction, nor poetry, nor creative nonfiction ( e.g.  a cookbook, a car repair manual, or an ESL textbook). Am I eligible for the fellowship?   A: Yes. Books that are not creative writing do not count for fellowship purposes. If you are unsure if your book is considered a creative work, feel free to  contact us .
Q: In addition to one collection of creative work, I've edited an anthology. Am I eligible for the fellowship?   A: Yes.
Q: Am I still eligible if I published one full-length book of creative writing, plus one or more chapbooks?   A: Yes. A chapbook is not considered a book for fellowship purposes. However, please note that we regard any poetry collection exceeding 45 pages to be a full-length manuscript, even if the press labels it a "chapbook."
Q: If I've published more than one full-length book of creative writing, but in two or more different genres, may I still apply for a fellowship?   A: No. Since the fellowship is provided to give writers time to work on a first or second book of creative work, you are no longer eligible to apply, even though your books were in different genres.
Writing Sample (fiction and poetry fellowships only)
Q: May I submit a slightly longer writing sample than the rules permit?   A: No. Additional material beyond the stated page limits will not be read.
Q: If I write very short stories, may I send more than one? May I upload two 15-page stories instead of one 30-page story?   A: No to both questions. You may submit only one short story, no matter how short, even if that means you are sending fewer than 30 pages of work. If you send more than one story, only the first will be read.
Q: You say each poem must begin on a new page. What do I do about a poem that won't fit on just one page?  A: Sorry for the confusion here. You may, of course, continue the poem on as many pages as necessary. You may, for example, submit a single 10-page poem, or two 5-page poems, or five 2-page poems. What we are asking is that each new poem should begin on a new page.
Q: May I upload/e-mail additional material, or substitute another story, or otherwise update my application at a later date?   A: No. Only the original material submitted with the application will be considered.
Selection Process (fiction and poetry fellowships only)
Q: Could you give me an idea of how you go about selecting your poetry and fiction fellows?   A: Sure. Submittable applications are made anonymous to everyone but the Program Administrators; only the writing samples themselves are visible to the committee. These anonymous fiction manuscripts are assigned to a panel of fiction judges, and the anonymous poetry manuscripts are assigned to a panel of poetry judges. The judges then read and evaluate the manuscripts, narrowing down the field until each panel has selected the fellowship recipients and several alternates. Judges who recognize work by former students or close personal acquaintances recuse themselves with respect to that work. Only after the judges have chosen and ranked the best manuscripts are those selected manuscripts matched up with the applicants' other materials. This is the first time the judges learn the names of, and other information about, the winners and alternates.
Q: Who are the judges?   A: The exact composition of the fiction and poetry panels changes from year to year, but panels always consist of members of the creative writing faculty, as well as current and former Institute fellows. There are at least five to seven judges on each final committee.
Q: When and how will you let me know your decision?  A: We make our decisions and email or phone the selected poetry, fiction, and HEAF fellows by May 1. As soon as we have all of our acceptances we post the names of our new fellows on this website and notify other applicants via e-mail of our selections.
Q: Is there a certain style of writing you favor?  A: While selecting the fellows is a subjective process in which personal taste plays a large role, we do not intentionally restrict ourselves to certain styles of writing (as you will see from the aesthetic range of fellows throughout our history ). Because the composition of our selection panel changes annually, it is hard to predict what kind of work will speak to a panel in a given year. All we can suggest is that you send in what you believe to be your very best work.
Q: Do I have to indicate which of the fellowships I'm applying for ( e.g.  if I'm applying for a poetry fellowship, do I have to specify whether I'm applying for a Halls or a Wallace fellowship)?   A: No. The Institute will assign the fellowships; all you have to do is let us know the genre in which you're applying.
About the Center Who we are & what we do
Our Historic Building
Getting Here Directions, parking and more
Our Name Honoring the life of Virginia G. Piper
Our Annual Report Reflecting on our work over the last year
Alberto Álvaro Ríos
Writers Visiting writers, instructors and more
Jonathan Danielson
Contact Information Addresses, numbers and more
Sign up for our Mailing List The best way to stay informed
Join our Outreach Lists The other best way to stay informed
Volunteer Get involved
All Events and Programs
Talks and Readings
Other Events
For Students
Open Scholarship
Conference Schedule 50+ workshops, craft talks, and panels
Register for the Conference
The Piper Writers Studio Non-credit classes and community workshops
Upcoming Events View all talks, readings, and community events
Distinguished Visiting Writers series: Andrew Sean Greer & Amanda Eyre Ward
Distinguished Visiting Writers series: Cynthia Hogue and Wendy Barker
Distinguished Visiting Writers series: Tommy Orange & Debra Magpie Earling
Monthly Events Salons, pop-up workshops, and more
Other Events Local author readings, community events and more
Graduate Internship
The ASU Creative Writing Program A rich history of partnership at ASU
Hayden's Ferry Review Supporting the literary journal of ASU
Imagination and Climate Futures Initiative Envisioning new futures in a changing world
Piper Fellow-in-Residence An innovative fellowship and residency position
Dunbar Elementary School Creative writing education for students
Stories and Impact
Mentors and Mentees
Undergraduate Internships
Fellowship in Literary Arts
Creative Engagement Fellowships
Fellowship for Cultural Exchange in the Literary Arts
Student Stories
Creative Research
Global Creative Research
Past Outreach and Initiatives
Giving to the Center
The Piper Circle of Friends
Scholar Stories
New Programs and Outreach
Making Your Gift
Sign up for our Mailing List
The Virginia G. Piper Center for Creative Writing
From left: 2019 Desert Nights, Rising Stars Fellows Sarah Rafael García, Halee Kirkwood, and Jabari Jawan Allen. Photographs by Kevin S Moul.
Become a Fellow
Meet our Fellows
Conference Fellowships
Access and opportunity for the writing community
The Virginia G. Piper Center for Creative Writing is proud to offer  full and partial teaching fellowships  for writers to teach at the Desert Nights, Rising Stars Writers Conference.
Created as  a showcase for writers whose voices may not otherwise be heard at our conference , fellows are an integral part of our Desert Nights experience. By teaching alongside  conference faculty , fellows impact the lives of conference attendees while being nationally recognized as prestigious Desert Nights fellows. Through this program, we seek to expand our sphere of discussion, looking towards a larger engagement of topics and people from all over the world.
Fellowship applications for the 2021 Desert Nights, Rising Stars Writers Conference are now open!  The deadline for fellowships is July 29, 2020 . Applicants will be notified by September 11. 
To learn more about fellowships, you can review the information below or submit a fellowship application . 
You can also  meet our fellows , meet our faculty , or  learn more about this year's conference .
Awards and Benefits
More information, fellowship eligibility.
Fellowships for the Desert Nights, Rising Stars Writers Conference are open to writers of all backgrounds, genres, and levels of experience. Individuals should have some sort of history of literary activity—publication, teaching, community involvement, etc—but do not need to be published authors to apply, nor do they need an advanced degree in English, Creative Writing or a related field. At the same time, individuals could also have an extensive history of literary activity—multiple full-length publications, tenured teaching positions in higher education, so on and so forth. Writers of all backgrounds, genres, and skill levels are encouraged to apply.
Please note: current students in ASU's MFA in Creative Writing Program and any individuals who have been awarded a fellowship for the Desert Nights, Rising Stars Writers Conference within the past year are ineligible to apply. 
Fellowship Applications
Fellowship applications consist of the following elements:
Contact Information
Session Proposal
Session Title
Session Description
Statement of Merit
Professional Biography
Please note: individuals may only submit one application for each year of the conference. Multiple submissions will not be accepted.
Session Proposals
Generally speaking, we are interested sessions with the following characteristics:
Engaging :  lively, dynamic sessions with innovative content presented through generative exercises, workshops, readings, discussions, small group work, and other conference formats
Relevant:  engage, explore, and advance current trends, topics, and issues in creative literature, publishing, and contemporary literature
Interdisciplinary:  approach their topics through different genres, styles, art forms, perspectives, or fields
Inclusive: accurately portray and reflect the diversity of individuals within the larger literary community
As a conference focused on craft and education, we tend to avoid sessions focusing exclusively on literary theory or the business of writing (querying agents, getting published, marketing, etc). That being said, we welcome elements of either incorporated into larger proposals.
For examples of previous sessions, you can  view past conference schedules .
Individuals who are selected as conference fellows will be offered a full or partial fellowship for conference tuition, and may attend and participate in all regular conference offerings as they see fit.
Beyond presenting their session alongside nationally-recognized authors and conference faculty , fellows are invited to attend any special receptions, socials, or other conference events, and will be included in national promotions and publicity.
Fellows will also be formally honored at the conference with a brief ceremony on Friday evening before the keynote address.
Additional Financial Aid
At this time, no additional assistance for travel, lodging, or other financial assistance for fellows is available. Fellows are responsible for any additional costs incurred through their conference involvement.
This being said, we are happy to connect fellows with local hotels or other resources in Phoenix, Arizona, and can readily supply fellowship award documentation to any institutions or organizations who may be providing financial assistance. We also recommend checking in with your local arts commission or office of arts and culture for additional support. 
Fellowship Reflections
As part of their fellowship, individuals will also be required to complete a short essay reflecting on their Conference experience (250 - 500 words), due no later than April 1.
Application Process
Fellowship applications are evaluted by committee according to the strength of the session proposal, the individual's history of work, and overall fit within current conference offerings. 
Important Dates
The deadline for fellowship applications for the 2021 Desert Nights, Rising Stars Writers Conference is   July 29, 2020 . Please note: if you are resubmitting an application during an extension, please preface your title with "Resubmission." Applicants will be notified no later than September 11.
Apply for the Fellowship
To apply for a fellowship for this year's Desert Nights, Rising Stars Writers Conference, you can submit a fellowship application.
For more information about fellowships, contact Dana Tribke at [email protected] .